Stuffed Eggplant with Vegan Lentil-Walnut Mince
The most common and popular vegetables for stuffing are probably zucchini and bell pepper – and this is absolutely justified! So, of course, we have already provided you with recipes for stuffed bell peppers and stuffed zucchini so far. But today, we're talking about another vegetable that's also great for stuffing but often forgotten: eggplants! They're in season from August to October, but if you find this recipe at a different time of the year, swap them out for another seasonal vegetable.
We first baked the eggplant for about an hour to get a buttery soft consistency – this way, you can also eat their skin. However, if you don't want to do that, just remove the skin after baking. The eggplants are then brushed with a mixture of olive oil, agave syrup, cumin, and garlic. The classic stuffing is probably (vegan) minced meatB but to show you a different and new creation, we fill our eggplants with a lentil-pepper-walnut mixture. Of course, these ingredients can be substituted if you don't like any of them, if you're allergic, or if you just prefer something else. We generously seasoned the stuffing with ground cumin and harissa, but make sure to season it to taste so that it isn't too spicy for you.
We serve our baked eggplants on a plant-based dip with fresh herbs and caramelized walnuts on top. The combination of a spicy stuffing, hearty soft eggplants, a slightly tart dip, and the caramelized walnuts is just perfect in my opinion, so off to the kitchen with you!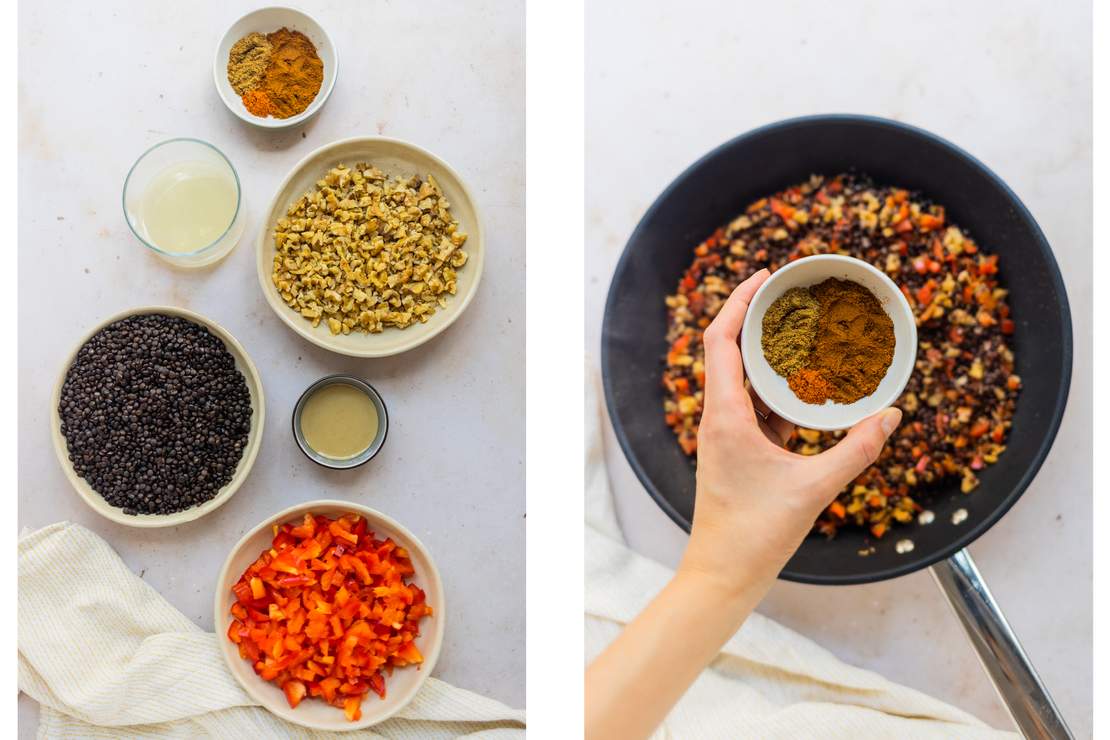 Filled Eggplant with Lentil Walnut "Mince"
Ingredients
For the stuffed eggplants:
2 eggplants
100 g (0.5 cup) beluga lentils
1 red bell pepper
60 g (2 oz) walnuts
2 tsp sweet paprika
1 tsp ground cumin
1-2 tsp harissa
1 tbsp tahini
0.5 lemon (juice)
olive oil for frying
salt
pepper
For the "marinade":
30 g (3 tbsp) olive oil
10 g (1 tbsp) agave syrup
1-2 tsp ground cumin
1-2 garlic clvoes
salt
pepper
For the vegan dip:
10 g (0.33 oz) mint
200 g (0.75 cup) plant-based curd or yogurt
0.5 lemon (juice)
salt
pepper
Also:
40 g (1.5 oz) walnuts
20 g (1.5 tbsp) sugar
fresh herbs (mint, coriander) for serving
lemon wedges for serving
Instructions
Preheat the oven to 200°C/390°F (top and bottom heat). Wash the eggplants, place them on a lined baking sheet and bake for approx. 45-60 minutes. Turn once when the baking time is halfway through.

Cook beluga lentils in a pot of salted water according to package instructions.

For the marinade, mix olive oil, agave syrup, ground cumin, salt, and pepper in a bowl. Peel and finely chop the garlic cloves and add them as well.

For the dip, wash and finely chop mint leaves, and add them to a bowl with plant-based curd (or yogurt) and lemon juice. Stir to combine and season with salt and pepper to taste. Refrigerate the dip until needed.

For the stuffing, wash and finely dice the bell pepper and chop walnuts. Add olive oil to a large frying pan over medium heat and fry bell peppers, walnuts, and cooked beluga lentils for approx. 5 minutes. Season with sweet paprika, ground cumin, and harissa and sauté for another 2-3 minutes. Add tahini and lemon juice, season with salt and pepper to taste, and remove from heat.

Remove the eggplants from the oven and cut them in half. Drizzle the baked eggplants with the marinade, add the sautéed lentil-walnut mix on top and bake the stuffed eggplants for another 5 minutes.

In the meantime, melt sugar in a frying pan over medium heat. but keep stirring well so nothing burns. Once the sugar has melted, add the remaining walnuts and stir until they are coated in sugar. Remove from heat and let them cool down.

Spread the dip on serving plates and place the baked eggplants on top. Sprinkle with caramelized walnuts and fresh herbs and serve some lemon wedges on the side.