Baked Sweet Potato Salad with Sesame Vinaigrette
When we're craving potato salad, we don't have to think too hard and start preheating the oven to make the best potato salad in the world. That's exactly what happened a few weeks ago, but then I realized I had neither regular potatoes nor cucumber relish at home. Alert. Panic. Take a breath. Keep calm. What to do?
I did the obvious thing and experimented with the ingredients I had at home – and I was very happy with the results. So today, we have sweet potatoes with sugar snap peas, corn, sun-dried tomatoes, and pine nuts. Since the oven was already preheated, the sweet potatoes for today's salad were also baked. This is quite convenient, though, as you can prepare the rest of the ingredients and the vinaigrette in the meantime. So this potato salad is ready in just 30 minutes!
You can modify the recipe according to your taste in many ways. Regular potatoes instead of sweet potatoes? Sure! Swap out pine nuts for other nuts or seeds? No problem! You don't have fresh corn? Just use canned one! The chili crisp for serving is also optional – if you don't like spicy food, leave it out. If it's not the season for sugar snap peas, how about green beans, spring onions, kohlrabi, or cucumber? And, of course, sun-dried tomatoes preserved in oil also work great! In this case, reduce the amount of oil for the vinaigrette. Otherwise, your salad can get too greasy.
Speaking of vinaigrettes, if you don't like sesame at all, you can also use olive oil or prepare a different dressing. We also have a ginger-turmeric dressing, a shallot vinaigrette, a carrot greens dressing or, of course, the relish-mayo dressing from the best potato salad in the world on our blog!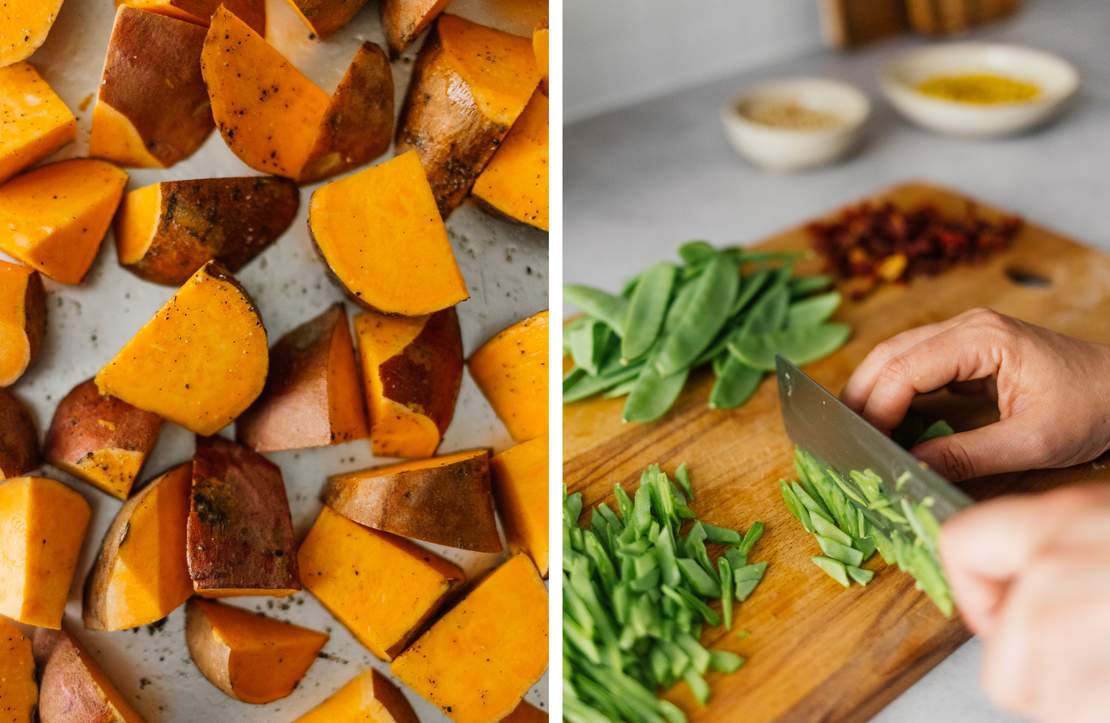 Baked Sweet Potato Salad with Sesame Vinaigrette
Ingredients
For the salad:
1 kg sweet potatoes
50 g pine nuts
1 corncob
100 g (3.5 oz) sun-dried tomatoes
200 g (7 oz) sugar snap peas
olive oil
salt
pepper
For the vinaigrette:
1 shallot
1 garlic clove
4 tbsp sesame oil
1 tbsp toasted sesame oil
1 tbsp red wine vinegar
1 tsp mustard
salt
pepper
Also:
Instructions
Preheat the oven to 200°C/390°F (convection heat). Cut sweet potatoes into bite-sized pieces, arrange them on a baking sheet, drizzle with olive oil, and season with salt and pepper. Bake for about 20 minutes, or until they're crisp and browned (flipping them as needed during baking).

Meanwhile, toast pine nuts in a fat-free pan until golden brown. Then remove them from the pan and set them aside. Cut corn kernels from the cob and fry them in the same pan with some oil until browned. Cut sun-dried tomatoes into strips and thinly slice the sugar snap peas at an angle.

For the vinaigrette, peel and finely chop shallot and garlic. Add both to a mason jar with sesame oil, toasted sesame oil, red wine vinegar, and mustard. Shake vigorously until combined and season with salt and pepper to taste. Add as much water as needed to get your desired consistency.

Add the baked sweet potatoes, sugar snap peas and the vinaigrette to a large and toss to coat. Top with pine nuts, corn, and sun-dried tomatoes. If you like, drizzle the salad with some chili crisp.
More Vegan 30 Minute Recipes