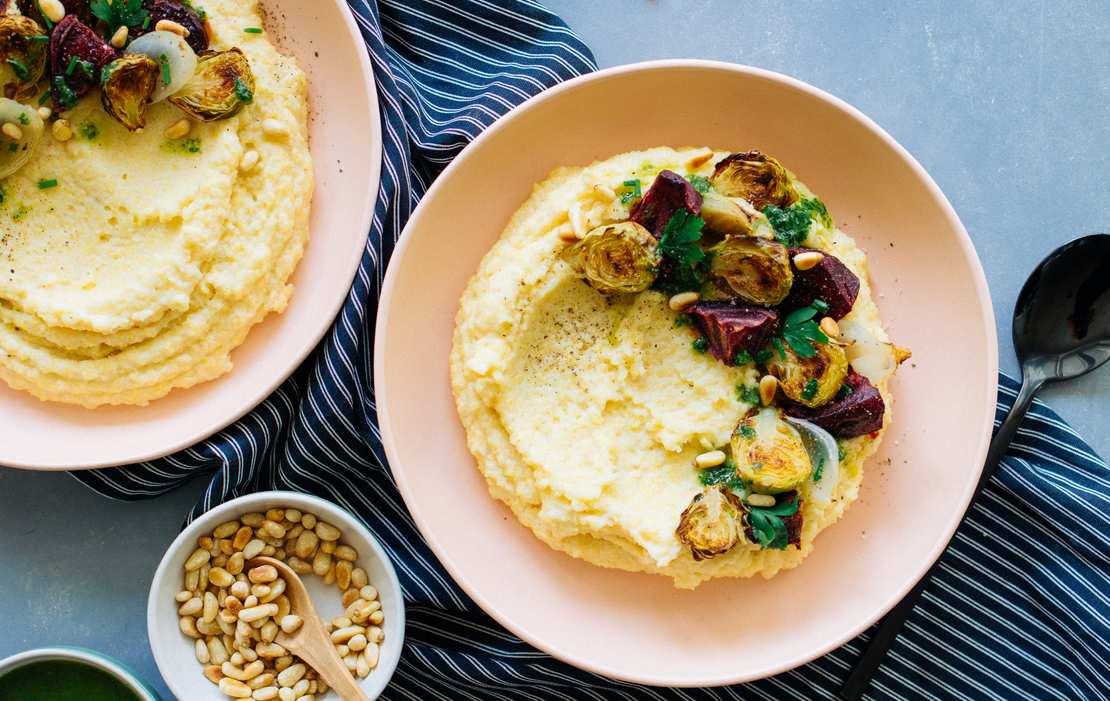 Creamy Polenta with Brussels Sprouts and Beetroot
Trying to buy only seasonal and regional fruits and vegetables is especially hard in the winter season. Apples from the warehouse are one of the few fruits that are still available. Veggies are often limited to cabbage and root vegetables. However, stored fruit and vegetables from greenhouses are helping us until winter is over.
Brussels sprouts and beetroot are one of the stored vegetables that are still available in winter. Today we serve them both on creamy polenta with fresh herbed oil on top, but you can also prepare this dish with other winter vegetables, such as turnips, radish, potatoes, celery or pumpkin, and kale. Polenta tastes so good in combination with warm oven vegetables - and the best time for it is definitely winter!
Creamy Polenta with Brussels Sprouts and Beetroot
Ingredients
For the polenta:
130 g (0.75 cup) polenta/cornmeal
250 ml (1 cup) plant-based heavy cream
400 ml (1.66 cup) vegetable stock
1 tbsp nutritional yeast
salt
pepper
For the roasted vegetables:
200 g (7 oz) Brussels sprouts
1 large raw beetroot
1 onion
3-4 sprigs rosemary
olive oil for greasing
salt
pepper
For the herbed oil:
10 g (0.33 oz) parsley
5 g (0.25 oz) basil
5 g (0.25 oz) chives
50 ml (0.25 cup) olive oil
1 tbsp agave syrup
0.5 lemon
salt
pepper
For serving:
Instructions
Preheat oven to 180°C/355°F (circulating air). Remove the outer leaves of the Brussels sprouts and trim the stems. Wash and halve the Brussels sprouts. Wash and chop beetroot – make sure it's the same size as the Brussels sprouts. Peel and quarter the onion.

Transfer the cut vegetables to a lined baking sheet, drizzle with olive oil, and season with salt and pepper. Wash rosemary and add it to the baking sheet as well. Bake at 180°C/355°F in the middle of the oven for approx. 20-30 minutes.

In the meantime, prepare the herbed oil. Roughly chop parsley, basil, and chives. Add olive oil, chopped herbs, agave syrup, and lemon juice to a liquid measuring cup. Blend until smooth and season with salt and pepper to taste.

Toast pine nuts in a fat-free frying pan until golden brown.

For the polenta, add plant-based heavy cream and vegetable stock to a pot. While whisking constantly, add polenta and let it simmer over medium-low heat for approx. 5 minutes. Season with nutritional yeast, salt, and pepper to taste. Mit Hefeflocken, Salz und Pfeffer abschmecken. Remove the pot from heat and divide the polenta onto serving plates.

Remove vegetables form the oven and serve them on top of polenta and with toasted pine nuts and herbed oil.