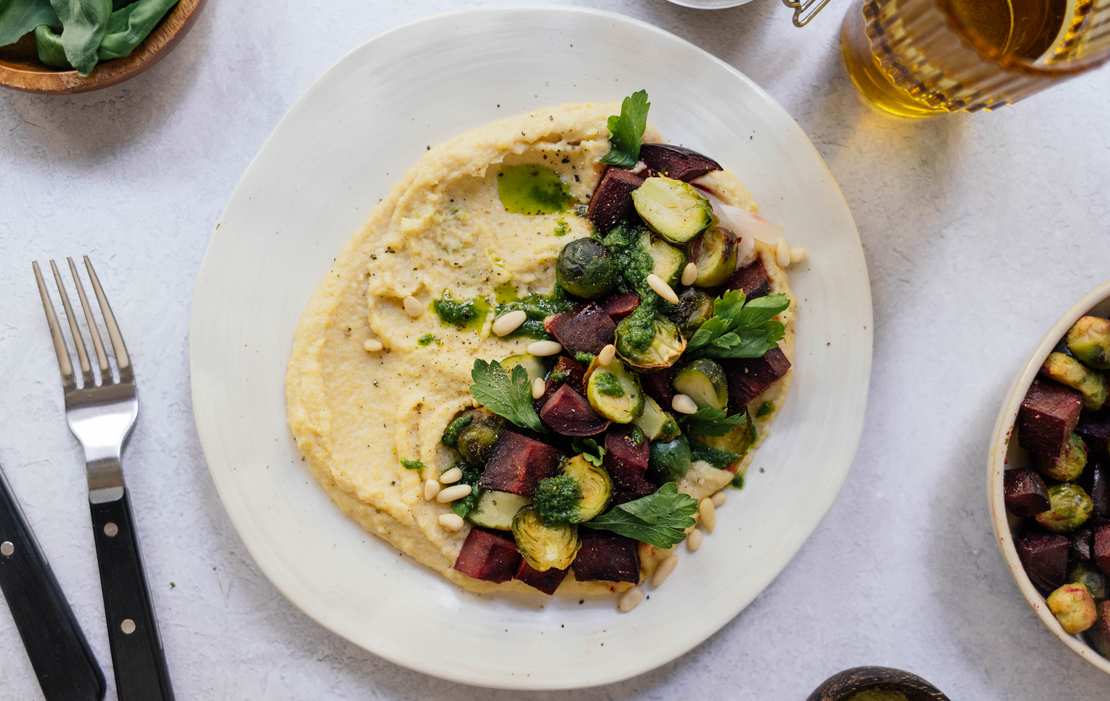 Creamy Polenta with Brussels Sprouts & Beetroot
Those of you who like to use seasonal and regional produce are probably already dreading winter. Regional fruit is hardly available, and when it comes to vegetables, we have to rely mostly on tubers and root vegetables. Don't get us wrong–we LOVE potatoes and cabbage, but the variety of seasonal produce in the summer is simply unbeatable. Luckily, though, some fruits and vegetables are in stock during the colder months, so we can still enjoy apples, carrots and the like. And not to forget: It's finally time for beetroot again.
Speaking of beetroot: it plays an essential role in today's dish. Supporting act: Brussels sprouts. It's a daring combination since both are not exactly known for their great popularity. But served with our creamy polenta and topped with herb oil and pine nuts, we convince even the biggest skeptics.
For this, we roast both in the oven, garnished with a bit of rosemary. We add a good portion of plant-based heavy cream to the polenta to make sure it's really creamy. Instead of water, we also add vegetable broth and then flavor the polenta with nutritional yeast. The dish is topped with a quick herb oil from the blender and toasted pine nuts. Delicious! And with that, a warm welcome to Team Brussels Sprouts.
Creamy Polenta with Brussels Sprouts and Beetroot
Ingredients
For the polenta:
130 g (0.75 cup) cornmeal
250 ml (1 cup) plant-based heavy cream
400 ml (2 cups) vegetable broth
1 tbsp nutritional yeast
salt
pepper
For the oven vegetables:
200 g Brussels sprouts
1 large beetroot
1 onion
3–4 branches rosemary
olive oil
salt
pepper
For the herb oil:
10 g (0.33 oz) fresh parsley
5 g (0.25 oz) fresh basil
5 g (0.25 oz) fresh chives
50 ml (0.25 cup) olive oil
1 tbsp agave syrup
0.5 lemon (juice)
salt
pepper
For serving:
Instructions
Preheat the oven to 180 °C (355 °F) (convection heat). Remove the outer leaves of the Brussels sprouts and trim the stalks. Then, wash and halve the florets. Wash and chop the beetroot (the pieces should be as big as the Brussels sprout halves). Peel and quarter the onion.

Spread the vegetables with rosemary on a lined baking sheet. Drizzle with olive oil and season with salt and pepper. Bake for 20–30 minutes at 180 °C (355 °F) (convection heat) until the vegetables can be easily pierced with a fork.

Wash and coarsely chop the parsley, basil, and chives for the herb oil. Place olive oil, chopped herbs, agave syrup, and lemon juice in a tall container and blend—season with salt and pepper and set aside.

Toast the pine nuts in a grease-free frying pan until golden brown.

For the polenta, bring plant-based heavy cream and vegetable broth to a boil in a saucepan. Stir in cornmeal and simmer over low heat, according to package directions, until the polenta is tender – depending on the type of polenta, this may take only a few minutes or 10 minutes or longer. Season it with nutritional yeast, salt and pepper to taste.

Serve the polenta with oven vegetables, herb oil and pine nuts.