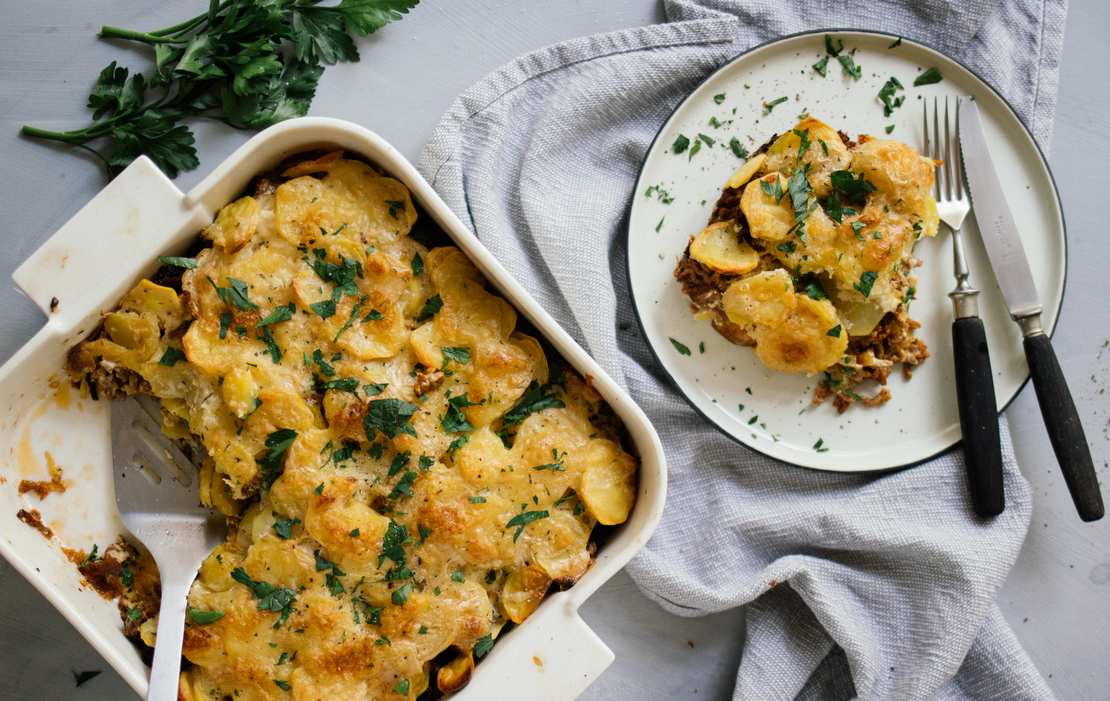 Vegan potato casserole with "minced meat"
The comfiest dish on this planet is a casserole, right? Especially when the winter season starts, there is no better idea than adding all your leftovers from the week to a casserole dish with a vegan cream sauce and lots of grated cheese.
We prepared a casserole classic for you today, filled with potatoes and vegan "minced meat," topped with oat cream and grated cheese. We recommend not to use granulated soy for this recipe because the ready-to-go version works much better here, because of the firmer texture. You can find vegan minced "meat" in a lot of supermarkets (we used Lidl's "Next Level Hack").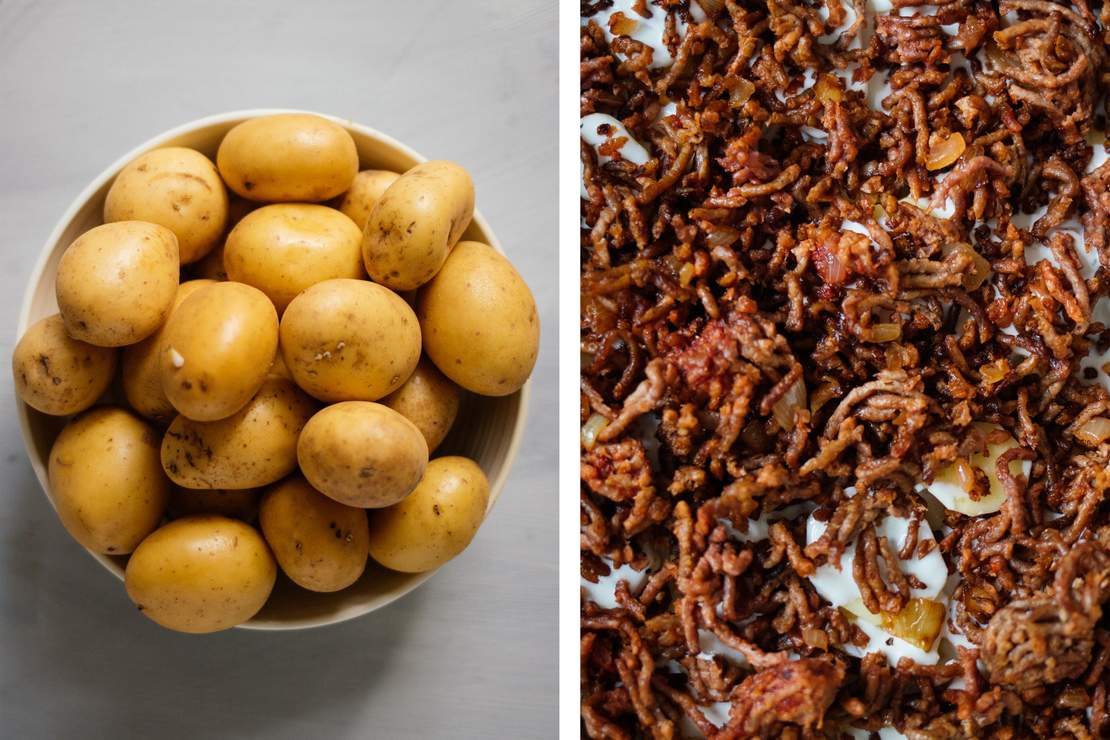 Vegan potato casserole with "minced meat"
6 servings
30 minutes (+ 40 minutes baking time)
Ingredients
1 kg hard-boiling potatoes
1-2 tbsp plant-based butter (for greasing the baking dish)
"minced meat"
1 onion
1 clove of garlic
2 tbsp plant-based butter
about 500 g vegan minced meat
2 tbsp tomato paste
2 tbsp soy sauce
pepper
cream sauce
1 tbsp plant-based butter
1 tbsp wheat flour
500 ml plant-based cream
0.5 sp ground nutmeg
1 tsp rosemary
1 tsp thyme
salt
pepper
cheese
75 g plant-based cheese
2 tbsp oil
2 tbsp water
garnishing
Instructions
Peel the potatoes and cut into thin slices.
"Minced meat"
Peel the onion and garlic and cut into cubes.
Heat a pan with 2 tablespoons plant-based butter and sauté the onion and garlic for 2 minutes.
Add the vegan minced meat and fry for 3-4 minutes.
Now add the tomato paste, soy sauce, and pepper. Fry for another 2-3 minutes and set aside.
Cream sauce
Melt 1 tbsp vegan butter in a small saucepan and add 1 tbsp wheat flour. Keep stirring!
Add the plant-based cream, season and set aside.
gratinating
Preheat the oven to 180 ° C/ 350° F.
In a small bowl, mix the vegan cheese with water and oil (this way the cheese melts much better).
Grease a casserole dish with 1-2 tablespoons of vegan butter.
Place half of the potato slices in the casserole and add half of the cream sauce on top. Now add the vegan "minced meat" and spread the second half of the potato slices on top. Top with the rest of the cream sauce.
Finally, cover the casserole with the vegan cheese and bake at 180 ° C on the medium rack for about 40 minutes.
serving
After baking, let the casserole rest for 10 minutes and then serve with fresh parsley, salt, and pepper.