Homemade Vegan Semi-Hard Cheese
It took me a few attempts until I ended up with the (for me) perfect recipe for homemade vegan semi-hard cheese. Sometimes it was too firm, sometimes too soft, other times too bland, and sometimes I just couldn't even slice it. As you can see, it's not that easy to develop a recipe like this because not only the taste but above all the consistency must be on point for vegan semi-hard cheese. Although there are already some excellent plant-based alternatives in supermarkets or organic stores, it could be that some of you don't have access to these alternatives or that you just want to have control over the ingredient list. So here we are. Luckily after several attempts, I eventually ended up with a result with which I was very happy.
I kept the list of ingredients as short and uncomplicated as possible. However, you might not be familiar with three components that I couldn't avoid: white miso paste, nutritional yeast, and agar-agar. Check out our article "Fantastic Vegan Ingredients and Where to Find Them" for more information. If you want to prepare our plant-based cheese, we recommend soaking the cashews in water the night before. This softens them up and contributes to a wonderfully creamy consistency, which we want to achieve. If you don't have enough time to do this in advance, soak the cashews for as long as possible. The next step is to mix or blend all the ingredients in a small saucepan and bring them to the boil with agar-agar. After the mixture has cooled down, it will become semi-hard and slicable. We ordered a triangular silicone mold just for this recipe, but you can also use any silicone mold you have on hand or just a regular plastic container. Grease the mold if necessary to prevent the cashew cheese from sticking.
Of course, you can season this vegan cheese to taste. Below, we share our basic version, but you can get as creative as you like and add dried herbs, walnuts, or finely chopped olives. With this recipe, you will get quite a lot of cheese, so you could also start with half of the amounts.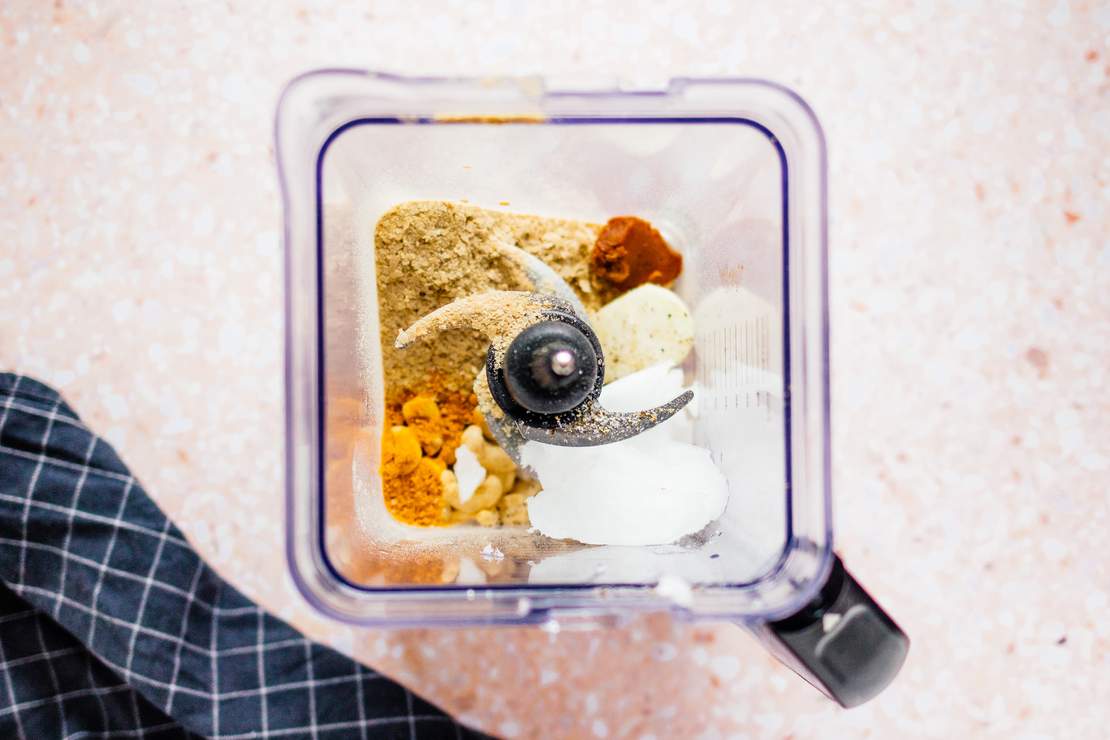 Homemade Vegan Semi-Hard Cheese
approx. 800 g (1.75 lbs) vegan semi-hard cheese
15 minutes (+ time to cool down)
Ingredients
For the cheese mixture:
1 onion
150 g (5.25 oz) cashew nuts (soaked overnight)
500 ml (2 cups) water
50 g (1.75 oz) coconut oil
1 tsp (0.33 oz) light miso paste
30 g (1 oz) nutritional yeast
1 tsp garlic powder
0.5 tsp turmeric
0.5 tsp salt
pepper
Vegetable oil for greasing
For thickening:
3 tsp (10 g or 0.33 oz) agar-agar
250 ml (1 cup) water
Instructions
Peel and halve onion. Add the onion, cashews, water, coconut oil, light miso paste, nutritional yeast, garlic powder, turmeric, salt, and pepper to a blender. Mix until creamy, at least 2 minutes.

To thicken the mixture,add agar-agar and water to a saucepan and bring to a boil while whisking constantly. Let the mixture simmer for at least 2 minutes, then add it to the cashew mixture in your blender. Mix again for approx. 30 seconds.

Grease (plastic or silicone) molds with vegetable oil. Pour the cashew mixture into the prepared molds and let it cool down. Before slicing the cheese, it's best to refrigerate it overnight.
More Plant-Based Cheese Alternatives