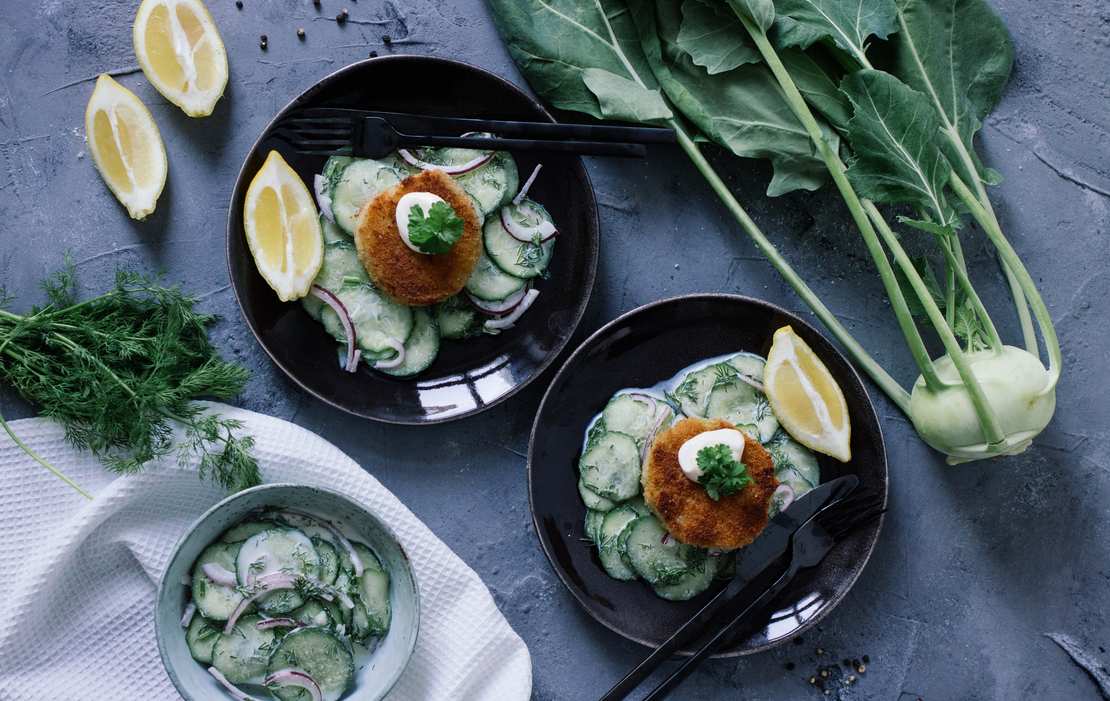 Kohlrabi "Schnitzel" with Cucumber Salad
My Tasty Enemy: Welcome to "My Tasty Enemy," where we face our biggest culinary enemies in the kitchen. Julia isn't fond of pineapple, Brussels sprouts and endives, Isa dislikes kohlrabi, mango, and radishes. Will we still find recipes that somehow make us like these ingredients?
Isa is struggeling with her Tasty Enemy, Kohlrabi, for a longer time. It really isn't that easy. The biggest problem is and will still be the moody smell of it. But Isa is smart, so she boiled and breaded the kohlrabi twice! While boiling, the smell of kohlrabi is disappearing and it gets crispy, cause it's breaded. Guess what? Since we developed this recipe, Isa bought kohlrabi by herself and made the kohlrabi schnitzel again. This Tasty Enemy is definitely beaten!
Vegan Cucumber Salad
3-4 small servings
15 minutes
Ingredients
1 cucumber
1 red onion
2 tbsp herb vinegar
1 tbsp olive oil
3 tbsp plant-based heavy cream
1 tbsp agave syrup
salt
pepper
sugar
Instructions
Wash and slice cucumber. Add it to a bowl and season with salt, pepper, and sugar. Let sit for approx. 5 minutes, then drain the excess water.

Peel, halve, and slice red onion. Wash, dry, and finely chop dill.

In a small bowl, mix herb vinegar, olive oil, plant-based heavy cream, and agave syrup. In case the ingredients shouldn't combine, use an immersion blender to mix them, or add some mustard. Add chopped chill and season with salt and pepper to taste.

Add cucumber and onion to the dressing, then toss to coat. Before serving, season with salt, pepper, and sugar to taste once more.
Vegan Kohlrabi "Schnitzel"
approx. 8 kohlrabi cutlets
30 minutes
Ingredients
2 kohlrabi
3 tbsp mustard
150 ml (0.5 cup) plant-based milk
100 g (0.75 cup) flour
150 g (5.5 oz) breadcrumbs
vegetable oil for frying
lemon for serving
salt
pepper
nutmeg
paprika
Instructions
Fill a deep frying pan with water, approx. 5 cm/2 inches high, season with salt, and bring to a boil. In the meantime, peel kohlrabi and slice it approx. 1 cm/0.4 inches thick.

Let kohlrabi slices cook for approx. 4-5 minutes, or until they are softened. Remove from the water and pat dry. Brush with mustard and season with salt, pepper, nutmeg, and paprika from both sides.

Prepare three shallow plates for breading: one plate with plant-based milk, one with flour, and one with breadcrumbs. Dredge kohlrabi slices in flour first, then transfer them to plant-based milk, and toss them in the breadcrumb mixture until they are covered all over. To get an even thicker breading, dip them once more in plant-based milk, then cover them with breadcrumbs for a second time.

Heat plenty of vegetable oil in a frying pan, so it's 1-2 inches high. Fry kohlrabi slices for approx. 5 minutes per side until they are golden brown. Serve with lemon slices or wedges.