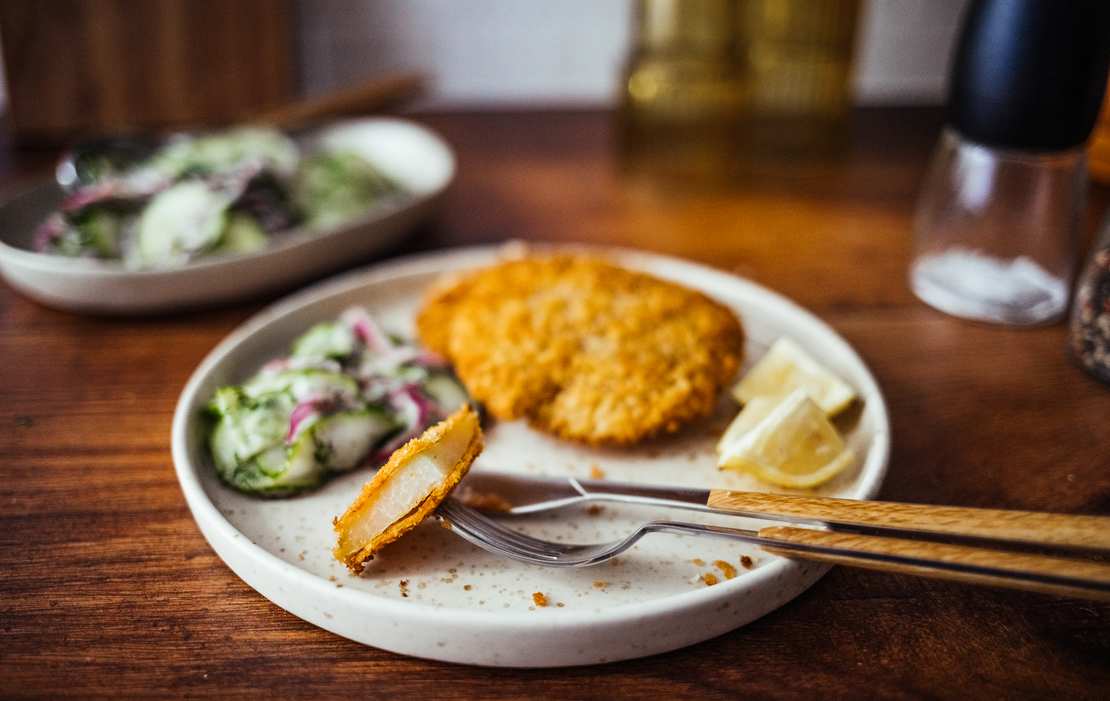 Kohlrabi "Schnitzel" with Cucumber Salad
My Tasty Enemy: Welcome to "My Tasty Enemy," where we face our biggest culinary enemies in the kitchen. Julia isn't fond of pineapple, Brussels sprouts and endives, Isa dislikes kohlrabi, mango, and radishes. Will we still find recipes that somehow make us like these ingredients?
It's amazing what you can make from vegetables! You can turnmushrooms into Pulled Chicken, carrots into sausages and banana blossom into fish. With the right consistency and spices, you can get pretty darn close to a dish without using meat, fish, and the alike. Often the toppings, such as fried onions and pickles in hot dogs, or a certain consistency or shape are also the deciding factors to hit. And if those fit, then everything else tends to be secondary.
Long story short, we're turning kohlrabi into schnitzel today, and this recipe is basically all about crunchy breading and the right seasonings. Whether you hide celery or kohlrabi under the breading makes little to no difference. I've been harping on kohlrabi for a long time, as it has quite a stinky flavor of its own when raw until I discovered that it tastes much better when cooked. And everything tastes twice as good under a breading anyway! So with this recipe, I've overcome my pre-loaded relationship with kohlrabi, which says a lot.
Since cooked kohlrabi doesn't carry as much taste (which I think is fantastic), feel free to be generous with the seasoning so your vegan schnitzels don't end up tasting too bland. We can highly recommend using panko for breading since the Japanese breadcrumbs are much coarser than ordinary breadcrumbs, and that's precisely what makes for a particularly crispy breading, which is why we now only use panko. However, not everyone has an Asian market or a well-stocked supermarket nearby, so you can also use fine breadcrumbs. We prefer to serve a cucumber salad with the kohlrabi schnitzels, but mashed potatoes with a sauce would also go great. Go wild!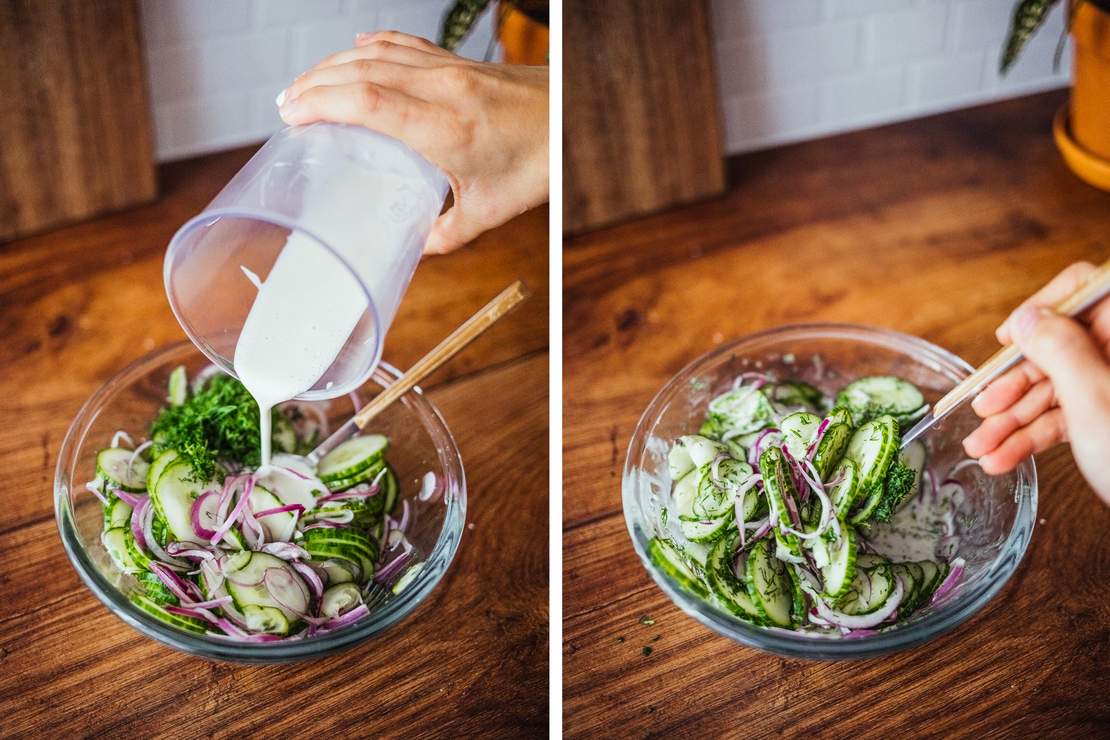 Vegan Cucumber Salad
Ingredients
1 cucumber
1 red onion
15 g fresh dill
2 tbsp herb vinegar
1 tbsp neutral vegetable oil
3 tbsp plant-based cream
1 tbsp agave syrup
salt
pepper
sugar
Instructions
Wash the cucumber, cut it into thin slices, and put it in a bowl. Salt well and let stand for about 5 minutes. Then pour off the leaked water.

Cut the red onion into thin slices and chop the dill finely.

In a large bowl, blend the herb vinegar, oil, plant-based cream, and agave syrup.

Mix the cucumber and onion slices with the dill and dressing in a bowl and season with salt, pepper, and sugar.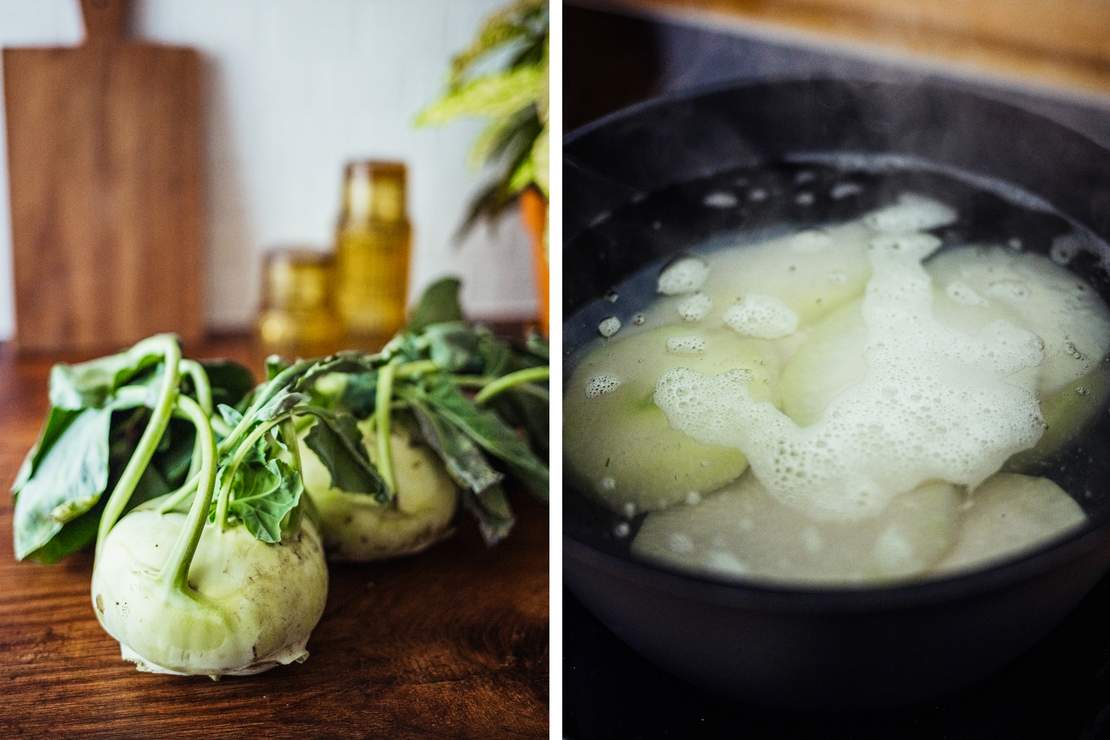 Vegan Kohlrabi "Schnitzel" with Cucumber Salad
4 servings (8 vegan "Schnitzel")
30 minutes
Ingredients
2 kohlrabi
3 tbsp mustard
100 g (3.5 oz) flour
150 ml (0.66 cup) plant-based milk
150 g (5.33 oz) panko / breadcrumbs
ground nutmeg
sweet paprika powder
salt
pepper
vegetable oil
lemon
Instructions
Fill a deep pan (or pot) with water, salt lightly and bring to a boil. In the meantime, peel kohlrabi and cut into slices about 1 cm (0.4 inch) thick. You will get about four slices from one kohlrabi.

Simmer the kohlrabi slices for about 5 minutes. When you poke the slices with a fork, they should be soft but not yet broken apart. Then remove from the water and pat dry. Thoroughly coat both sides of the slices with mustard and season generously with nutmeg, paprika powder, salt, and pepper.

Prepare three deep plates for breading: fill one plate with flour, one plate with plant-based milk, and the last plate with panko. First, put each kohlrabi slice in the flour, so the breading holds well. Then dip in plant-based milk and immediately cover in panko. Finally, to make the breading even crispier, dip the kohlrabi slices again in plant-based milk and cover them in panko again.

Heat enough vegetable oil in a large frying pan. There should be 0.5 - 1 cm (0.2 - 0.4 inch) in your pan. Fry the kohlrabi cutlets for about 5 minutes on each side until golden brown. Serve with lemon wedges.