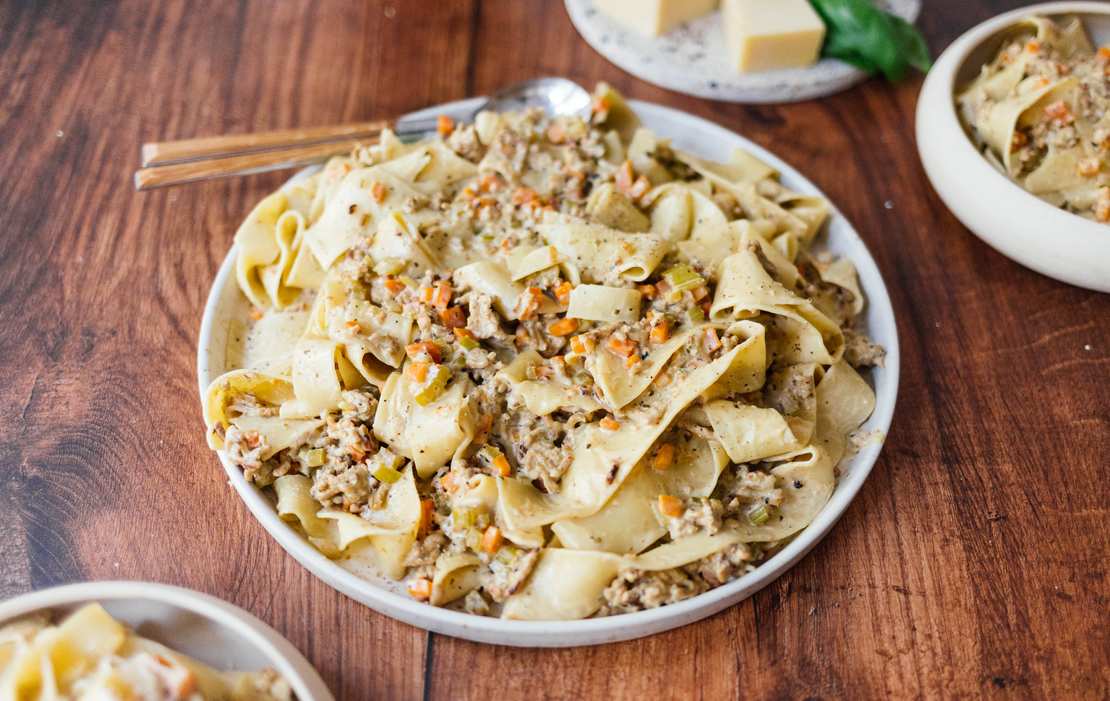 Pasta With Vegan White "Bolognese"
We have to confess that we're a bit careless with the term "Bolognese" on this blog – even though it's one of our absolute favorite dishes. Apart from the fact that we already deviate from the original recipe anyway, because we veganize a Bolognese, we have, for example, so far wholly bypassed celery stalks in both our vegan soy "Bolognese" and our cauliflower variant – simply because it doesn't quite meet our taste. Yet the so-called "soffritto" of finely diced onions, carrots, and celery is the basis of the traditional dish. At least it's the basis we have finally followed today, but you will have noticed at first glance that this recipe is still somehow different from the Bolognese you might know. That is why it's in quotation marks in today's recipe.
"Ragù Bianco" is a kind of white Bolognese – and not an invention of ours (even if it may not be too widespread). Instead of red wine, vegan white wine is used, and the tomato sauce is replaced with plant-based milk and cream. Why plant-based milk? Well, to be honest, we just wanted to test it out, but even among top Italian chefs, there's no consensus on whether or not milk even belongs in a classic Bolognese. It's supposed to tenderize tough pieces of meat, but we don't have that problem with any vegan replacement. Still, we wanted to try whether plant-based milk makes a difference and realized that it doesn't. However, it doesn't hurt the dish either and makes the sauce a bit lighter. But if you want, you can use more vegan cream instead.
As a ground meat substitute, we used vegan "raw mince" – if you prefer TVP ,sunflower mince, or anything else, go for it! Together with the soffritto, it is first sautéed, seasoned (here again, we deviate from the traditional Bolognese, to which no herbs come), and then simmers in the sauce until the pasta of your choice is al dente. Finally, we like to toss the latter with some of the pasta's cooking water directly in the saucepan until everything is wonderfully creamy.
Pasta With Vegan White "Bolognese"
Ingredients
500 g (17.5 oz) pappardelle (or any other type of pasta)
1 onion
1 clove of garlic
2 carrots
2 stalks of celery
250 g (9 oz) vegan "raw minced meat"
100 ml (0.5 cup) vegan white wine
150 ml (0.66 cup) vegetable broth
100 ml (0.5 cup) plant-based milk
250 g (1 cup) vegan cooking cream
1 tsp dried oregano
1 tsp dried basil
1 bay leaf
vegetable oil for frying
vegan Parmesan cheese for serving
salt
pepper
nutmeg
Instructions
Peel onion, garlic, and, if necessary, carrots. Wash the celery. Finely dice all four ingredients.

Heat vegetable oil in a large frying pan over medium heat and fry the vegan "mince" for about 5 minutes until lightly browned. Add carrots, celery, onions, garlic, and sauté for another 5 minutes.

Add vegan white wine and simmer briefly. Then add vegetable broth, plant-based milk, and cream, and season the sauce with dried oregano, basil, and the bay leaf. Simmer the sauce on low heat for approx. 30 minutes. At the end, season again with salt, pepper, and nutmeg to taste.

While the "Bolognese" is simmering, bring a pot of salted water to a boil and cook the pasta according to package directions until al dente. Before draining, reserve some of the cooking water and set it aside.

Add the cooked pasta directly to the white "Bolognese" and toss. While doing this, add as much cooking water as needed until the sauce becomes creamy and coats the pasta. Remove the bay leaf,sprinkle the pasta with vegan Parmesan and serve.