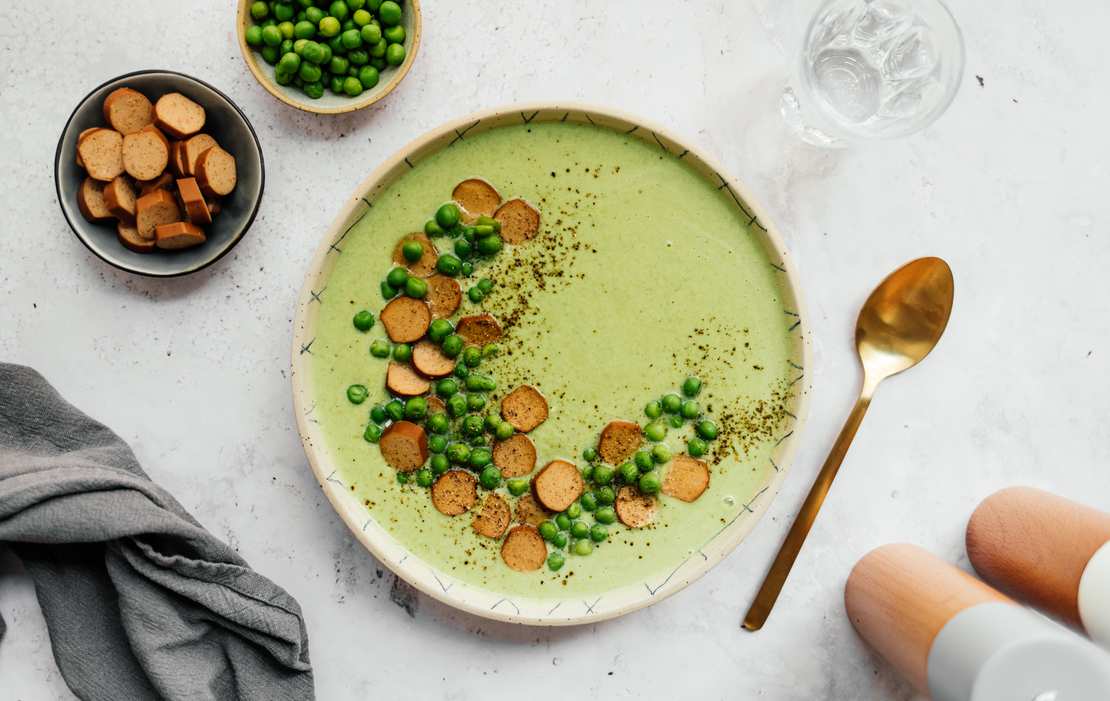 Pea Soup with Vegan Sausages (with 5 Ingredients)
I have always loved peas! As a child, I just needed a can of peas and some tomato ketchup, and I would be the happiest person in the world (I might still have these phases today, oops). Peas are one of my favorite side dishes as they go well with potatoes, pasta, rice ... yes, with basically everything! So today, we have a pea soup for you that is dinner-ready in just 20 minutes and, as if this wasn't enough, only requires five ingredients.
The 5 ingredients of this recipe:
Peas: I almost always have frozen peas at home. Unlike tinned peas, they make for a much fresher and richer color. Of course, you can also use fresh peas, but remember that you have to peel them.
Onions: Every hearty soup needs onions. The more, the better! Onions add a deliciously hearty flavor to this soup and prevent it from tasting bland. I used classic yellow onion, but you can also use shallots or vegetable onions. Red onions taste slightly sweet, which is why I would prefer one of the other options because the peas already add a certain sweetness to the soup.
Vegetable stock: To cook the peas, we need some liquid, of course. But instead of using salted water, I went straight for vegetable stock to add even more flavor to the soup – after all, we're using only five ingredients, so we have to choose wisely to add as much flavor as possible.Of course, you can adjust the amount of vegetable stock to taste, depending on the desired consistency.
Vegan crème fraîche: For a certain creaminess, most vegetable soups are served with a dollop of (vegan) cream. However, I chose vegan crème fraîche because it tastes fresher and more acidic. This way, we don't have to add extra lemon for acidity, which is excellent, using only five ingredients. You can also use plant-based cooking cream or add a few tablespoons of unsweetened plant-based yogurt.
Wiener sausages: Let's move on to the "meaty component" that is often part of pea soup or pea goulash. I decided on vegan wiener sausages, which you can find in most regular and organic stores. But, of course, smoked tofu or other types of plant-based sausages work well too.
Pea Soup with Vegan Sausages (with 5 Ingredients)
2 servings (or 4 small servings)
20 minutes
Ingredients
2 onions
450 g (16 oz) frozen peas
300 ml (1.33 cups) vegetable stock
150 g (5 oz) vegan crème fraîche
150 g (5 oz) vegan wiener sausages
vegetable oil
salt
pepper
Instructions
Peel and dice the onions, then sauté them in a pot with vegetable oil until translucent. Add the frozen peas and fry for about 3-4 minutes.

Next, add the vegetable stock and cook for about 5 minutes until the peas are soft. Puree the soup and stir in the vegan crème fraîche. Season to taste with salt and pepper.

Slice the vegan sausages and warm them in the soup for about 3-4 minutes.