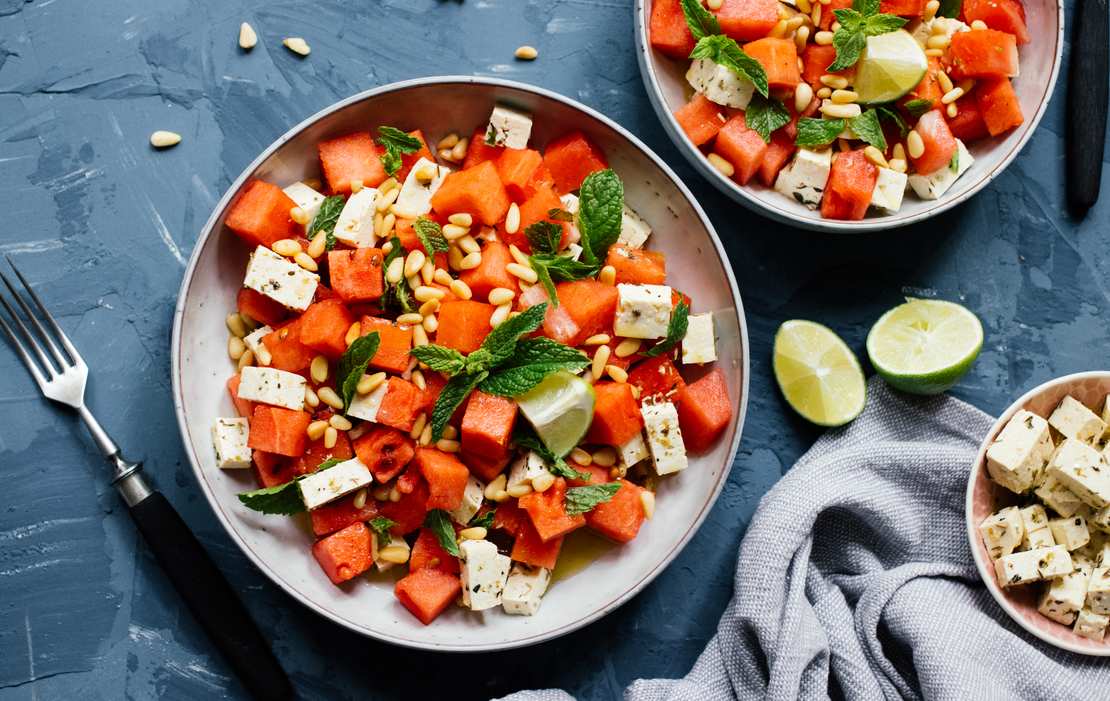 Quick, vegan watermelon & feta salad
In the summertime, it feels like the only thing we need is watermelon. Breakfast, lunch, or dinner? No problem! To add some variety to our meal plan, we sometimes prepare some homemade vegan feta cheese and mix it with .. watermelon (for a delicious and refreshing salad! The best thing that can happen to you when it's 30°C or more! Besides, a watermelon feta salad is also incredibly simple and ready in 15 minutes.
You can use different variants for the vegan feta cheese. The easiest way is to buy a vegan feta cheese that is ready to use. But you can also easily prepare a homemade one made of tofu or cashews and almonds. We used our recipe for homemade vegan feta cheese made of tofu for this version.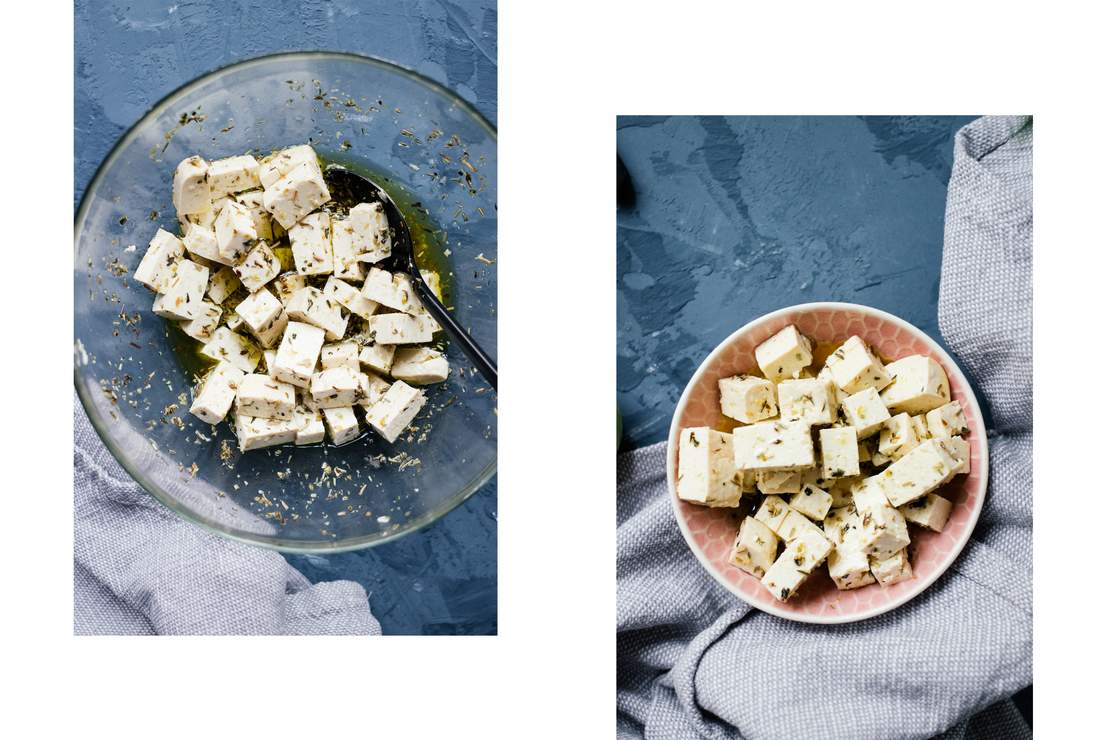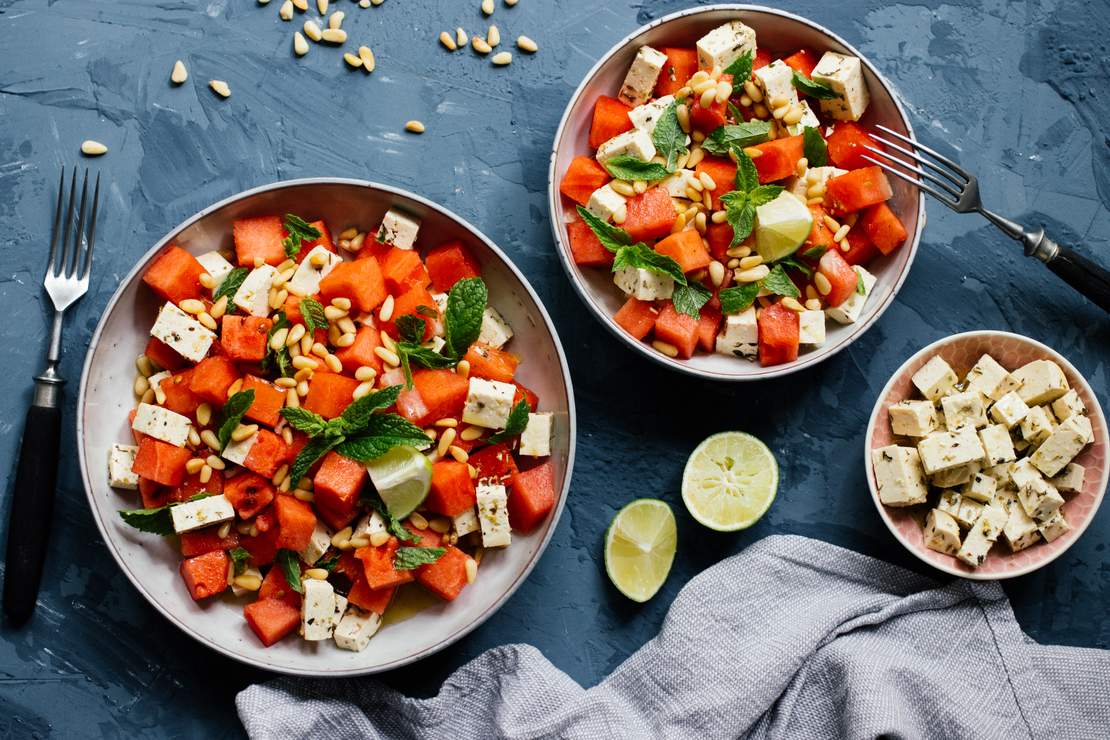 Vegan "Feta" Cheese made out Tofu
Ingredients
200 g (7 oz) tofu
100-150 ml (0.5 - 0.66 cup) olive oil
2 tbsp dried basil
2 tbsp dried oregano
1 tbsp dried thyme
1 tsp salt
1 tsp miso paste (optional)
2 cloves garlic
Instructions
Dice tofu in same-sized pieces.
In a preserving jar, pour in about 5 tbsp of your olive oil and stir in salt, herbs, and miso paste if used.
Peel 2 cloves of garlic and slightly crush them with the back of a knife or slice them. Then add them in your jar.
Fill the jar with tofu dices but leave some space at the top.
Now pour over olive oil until your jar is filled, lock it carefully and shake it so all the tofu gets covered in herbs.
Put it in your fridge. The longer you keep it there, the better it will taste! You can taste it after 24 hours and season it with some more salt, if you like. Whenever you open the fridge, shake the jar from time to time so all the herbs keep flowing around.
Quick, vegan watermelon & feta salad
Ingredients
1/2 watermelon
400 g vegan feta cheese
50 g roasted pine nuts
10 g fresh mint
dressing
1/2 lime
3 tbsp olive oil
salt & pepper
Instructions
Prepare the feta cheese if necessary, and cut into cubes.
Remove the peel from watermelon and cut into cubes.
Roast the pine nuts in a pan without oil. Wash the mint leaves and remove leaves from the stalk.
For the dressing mix the juice of half a lime with olive oil and season with salt and pepper.
Place the watermelon cubes and vegan feta cheese in a large bowl and top with pine nuts, mint leaves, and the dressing.