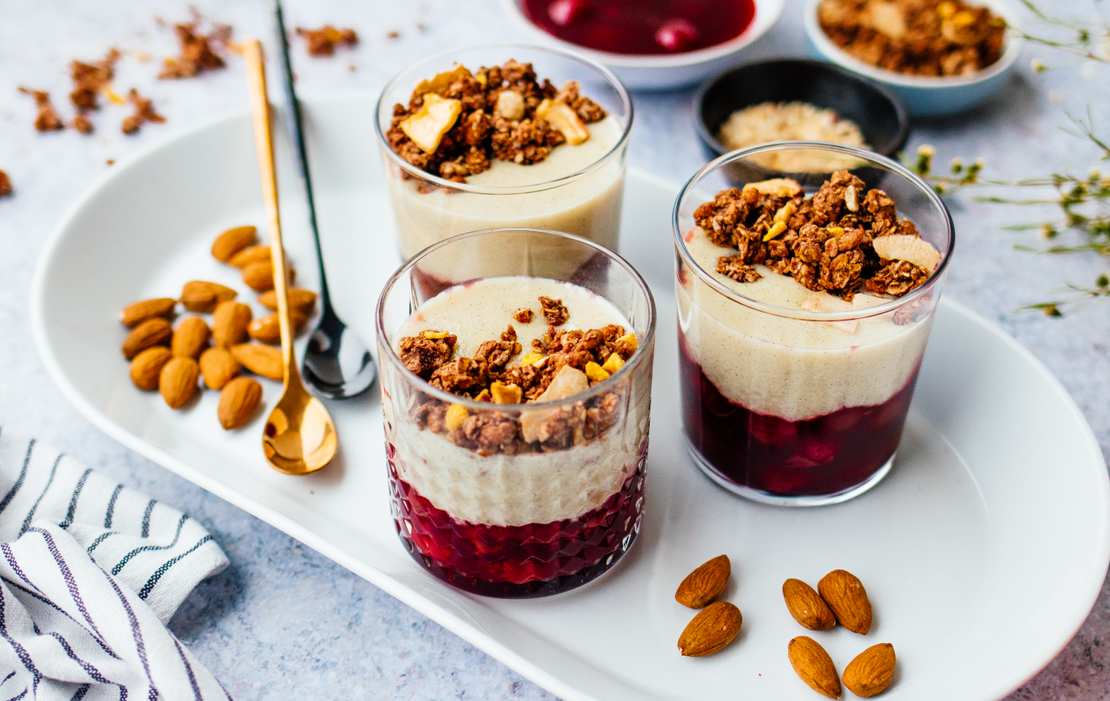 Vegan 20-Minute Dessert with Semolina Pudding & Cherries
I only have few memories of my early childhood, but there's a situation that I keep in best memory. It's me and my sister sitting at the kitchen table eating semolina pudding. When we were kids, we ate this dish quite often and we loved it more than anything else! If our parents had served us semolina pudding for breakfast, lunch, and dinner, we would have downed it without any hesitation. These days, I prepare semolina and pudding only rarely which makes this memory even more beautiful. I just highly enjoy it when warm semolina bubbles on the stove in front of you and it almost feels meditative to whisk it.
Since the Advent season and Christmas always lead us back to our childhood dishes anyway, I've thought of a dessert that reminds me of this time like no other. As anyone who loves semolina pudding knows, it's not only a good breakfast, lunch, or dinner, but also a great dessert – what an all-round talent! I love to eat it with cherries, which we like to preserve from fresh produce in late summer. In winter we unfortunately have to fall back on jarred cherries BUT we will add an extra crispy wintery topping. Here's a wonderful dessert in a jar that can be prepared in 20 minutes (which means that you can spend even more time with your family, presents, and Christmas songs).
To add the wintery flavor to our dessert, we sprinkle some organic granola called [Krunchy Christmas] (https://barnhouse.de/produkte/krunchy-christmas/) on top. This granola from barnhouse consists of whole oat flakes, hazelnuts, dark chocolate, dried apple, coconut chips, coconut flakes, and Christmasy spices such as cinnamon, aniseed, cloves, and cardamom. It's made without any palm oil but with ingredients from organic farming in Bavaria only. You can find it at organic stores or buy it directly via barnhouse's online shop.
Vegan 20-Minute Dessert with Semolina Pudding & Cherries
4 servings (small jars)
20 minutes
Ingredients
For the semolina pudding layer:
1 vanilla bean
30 g (2 tbsp) sugar
1 pinch salt
500 ml (2 cups) plant-based milk
60 g (0.33 cup) soft wheat semolina
For the cherry layer:
720 ml (24.3 oz) jarred morello cherries
20 g (3 tbsp) cornstarch
For the granola layer:
100 g (3.5 oz) Christmasy granola (e.g. "Krunchy Christmas" by barnhouse)
Instructions
For the semolina pudding halve a vanilla bean lengthwise and scrape out the pulp with the back of your knife.

Add vanilla pulp, sugar, salt, and plant-based milk to a small pot. Stir to combine, then bring to a boil while constantly stirring. This way, you avoid any burning.

While whisking, add the soft wheat semolina and let the mixture simmer for approx. 5 minutes. Remove the pot from heat and let the semolina pudding sit and soak for another 5 minutes.

Add jarred cherries including the liquid to a small pot and bring to a boil. Transfer approx. 3 tbsp of the liquid to a small bowl, add cornstarch, and stir to combine. Add the mixture back to the pot, whisk to combine and let the cherries simmer for approx. 5 minutes, or until the liquid is thickened.

For serving, layer cherries, semolina pudding, and granola in jars. If you want to serve the dessert later, add the granola just right before serving to keep it crispy.