We certainly don't have to tell you that we're big fans of Indian food. You can also find some vegan recipes on our blog, such as Soy Korma, Palak Tofu, Tofu Tikka Masala, Butter Chicken and Malai Kofta. Today, we'll add another classic to the list: biryani. The dish is often associated with Indian cuisine, but it's actually enjoyed in different variants also in the Middle East area and Southeast Asia. The name 'biryani' itself derives from the Persian language and means "fried."
Traditionally, the rice for biryani is prepared with ghee, and the meat gets marinated in a spiced yogurt mixture. Of course, both parts are seasoned generously with the most fragrant spices – always a good opportunity to level up your spice pantry! Among all different kinds of biryani, we decided to do a vegan version of chicken biryani. Instead of chicken, we're going to use canned jackfruit and vegetables – if you can't get jackfruit, just use more veggies instead.
For this recipe, it's important to cook the rice only 75-80% through. Don't cook it until it's done, because it will otherwise be too mushy later, when it's layered over the jackfruit mixture and gets heated again for some time.
We're very happy that EDEKA supported us with this recipe. They not only have a large selection of vegan ingredients but also offer organic products such as the ginger (you recognize it by the organic symbol directly on the peel) and all of the veggies and spices you need for this recipe. Instead of finely chopping ginger and garlic, we prefer to grate them finely. This isn't only easier, but also releases a bit more flavor to add to your dishes, such as the jackfruit mixture in this vegan biryani. You can also find canned jackfruit at EDEKA supermarkets. Look for Mr. Jack Jackfruit!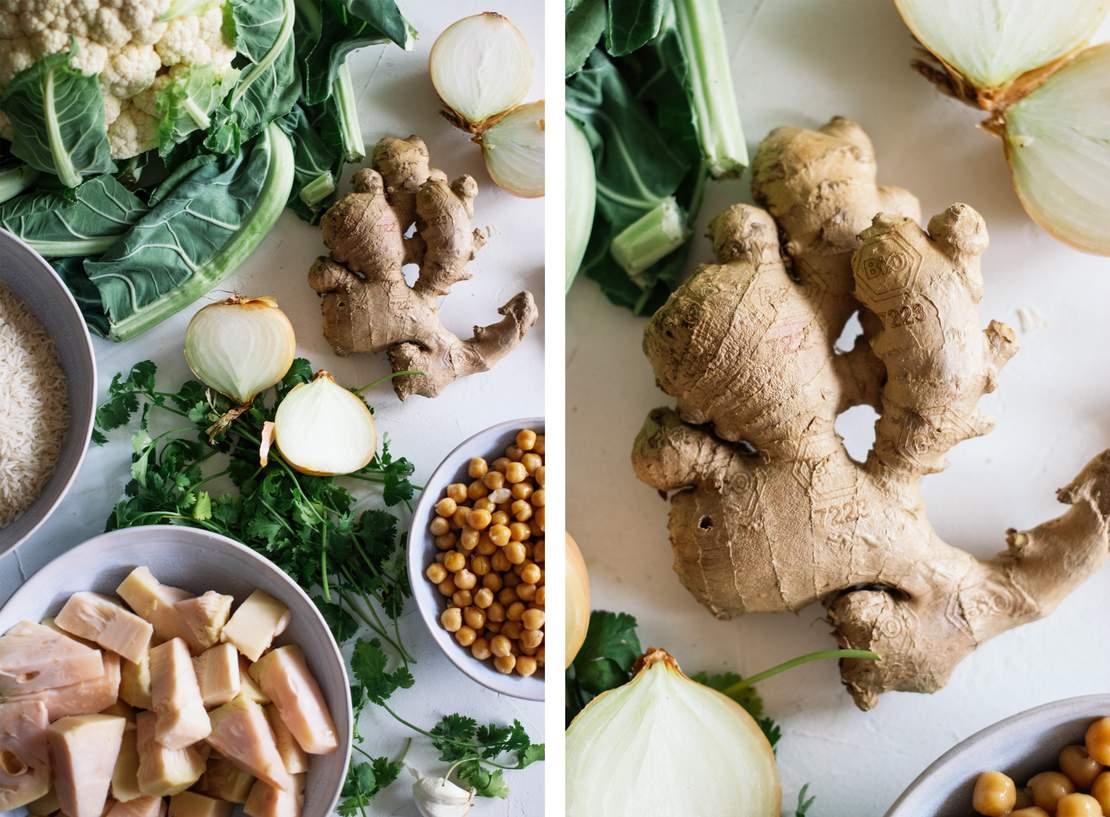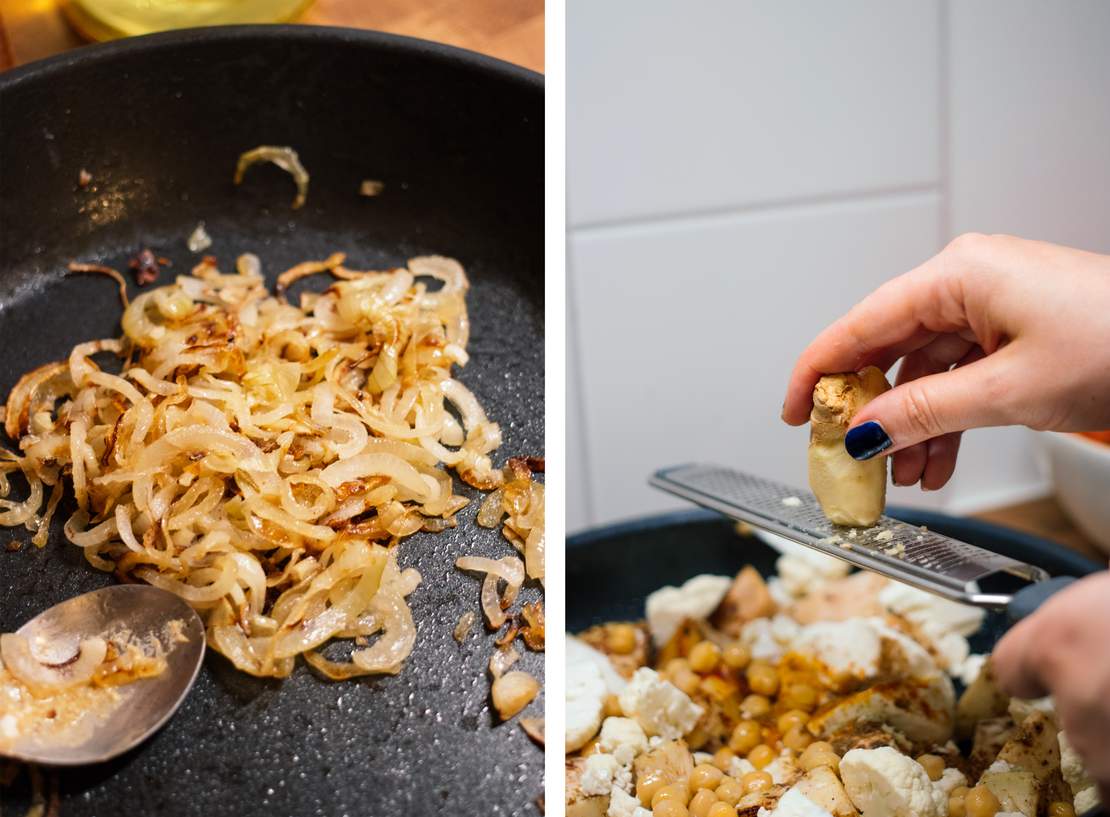 Vegan Jackfruit Biryani
Ingredients
For the rice
400 g (2 cups) rice
1 tsp nigella seeds
2 cloves
2 bay leaves
For the safran coconut milk
2 tbsp coconut milk
3 tbsp vegan butter
0.5 tsp saffron
For the jackfruit
3 cardamom pods
1 bay leaf
1 tsp cumin seeds
3 cloves
500 g (18 oz) canned jackfruit (e.g., Mr. Jack Jackfruit)
100 g (3.5 oz) canned chickpeas
200 g (7 oz) cauliflower
2 onions
2 tbsp tomato paste
200 ml (1 cup) water
25 g (1 oz) EDEKA organic ginger
2 garlic cloves
1 tsp chili powder
1 tsp turmeric
2 tsp garam masala
1 tsp coriander
0.5 tsp ground cinnamon
200 g (0.75 cups) plant-based yogurt
salt
pepper
Also
coconut oil for frying
plant-based yogurt for serving
cilantro for serving
cashew nuts for serving
pickled red onion for serving
Instructions
Add basmati rice with 1.5 the amount of water to a pot and add nigella seeds, cloves, and bay leaves. Cover with a lid and let simmer for approx.15 minutes over medium-low heat. The rice should be cooked until done, but rather 70-80% into the process. In the end, it should still be firm to the bite.

For the jackfruit: Remove cardamom from pods and add the seeds to a mortar, along with another bay leaf, cumin seeds, and cloves. Roughly crush the spices with a pestle.

For the saffron coconut milk: Heat coconut milk and vegan butter in a small pot until the butter is melted. Remove from heat, add saffron, and let it rest to infuse.

Drain jackfruit and chickpeas and rinse them underwater. Cut cauliflower into bite-sized pieces and peel and slice onions.

Heat coconut oil in a frying pan and caramelize the sliced onions over medium-low heat for approx. 25- 30 minutes. They should be golden brown, maybe even a bit crispy.

Parallelly, heat some more coconut oil in a big, deep frying pan. Add the crushed spices from the mortar and fry them for approx. 1-2 minutes over medium heat. Now add jackfruit, cauliflower, and chickpeas and keep frying for approx. 3-4 minutes. Afterward, add tomato paste and water, stir to combine and let the mixture simmer for approx. 10 minutes with the lid on the pan.

Afterward, the jackfruit should be soft enough so you can use two forks to pull them apart. Let the vegetables fry for another 5 minutes without the lid.

Peel and grate fresh ginger and garlic directly into the jackfruit frying pan. Season with ground chili, turmeric, garam masala, coriander, cinnamon, salt, and pepper. Add the plant-based yogurt and half of the caramelized onions, then stir to combine.

Now that the jackfruit mixture is prepared, spoon the precooked rice on top of it to create an even layer. If you want, now's the chance to discard the spices from the rice, such as the bay leaves or cloves. Top the rice with the remaining caramelized onions, fresh cilantro, and mint. Then finally, drizzle with the saffron coconut milk. It's totally fine that the mixture won't be enough to turn all the rice yellow, so no worries.

Cover the pan with the lid again and let the biryani simmer for 10-15 minutes over medium-low heat. Serve biryani on a big plate with fresh cilantro, pickled onions, toasted cashews, and some plant-based yogurt. If you have chutney at home, it also works wonderfully on the side!