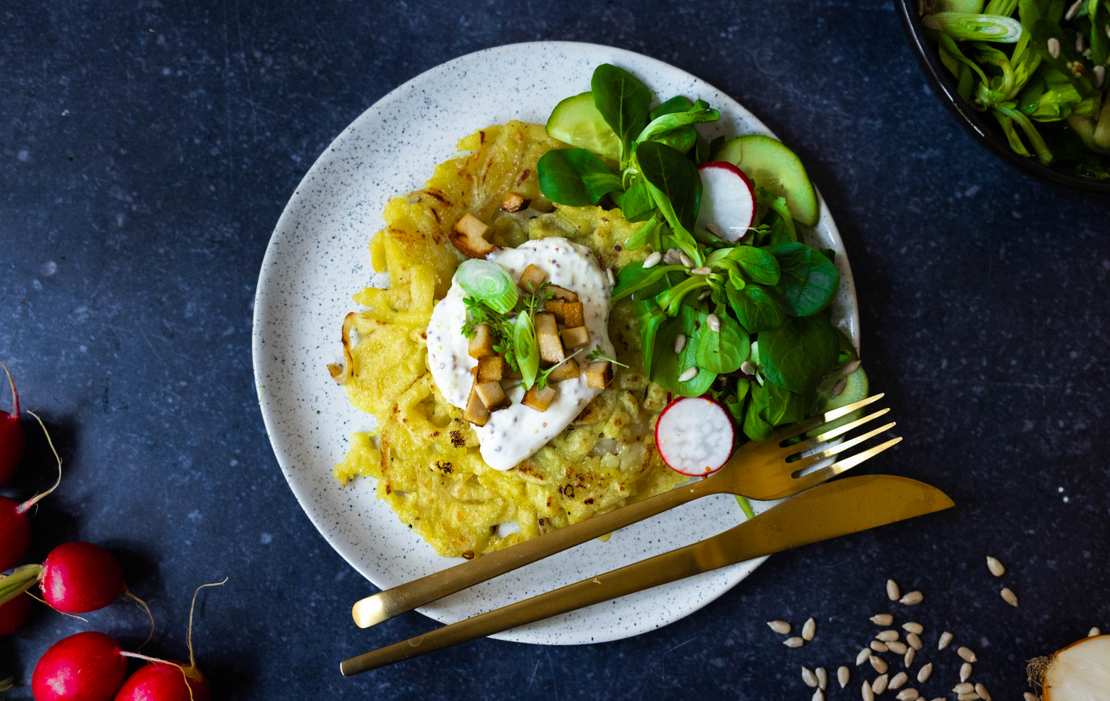 Vegan Cheese Spaetzle Hash Browns
Life without vegan cheese is possible but pointless. Pizza, lasagna, and casserole - would not taste half as good without (plant-based) cheese. Since the invention of vegan cheese, my quality of life has increased significantly. Especially because now I never have to go without one of my favorite foods again: Cheese spaetzle! Whether you are on a skiing holiday or a visit to Bavaria, both are only half as nice without cheese spaetzle. Though I could eat them every day, it might get a little boring at some point. So today, we decided to make every spaetzle lover's dream come true: Cheese spätzle hash brown!
And it couldn't be easier. You only need some plant-based cheese, vegan spaetzle, and onions. We used ready-made spaetzle, but you could also make them yourself. You can find a recipe on our blog. To finish off our hash browns, we add some crunchy smoked tofu, a tasty dip, and a fresh side salad. Again, there isn't much that could go wrong. Just make sure to mix the onions, vegan cheese, and spaetzle well before frying the hash browns so that everything holds together well.
Vegan Cheese Spaetzle Hash Browns
Ingredients
For the hash browns:
1 yellow onion
400 g (14 oz) vegan spaetzle
120 g (4.25 oz) plant-based grated cheese
1 tsp onion powder
0.5 tsp garlic powder
200 g (7 oz) smoked tofu
salt
pepper
vegetable oil for frying
For the dip:
2 tbsp sweet mustard
2 tbsp plant-based yogurt
2 tbsp plant-based mayonnaise
salt
pepper
For the salad:
100 g (3.5 oz) salad mix
0.5 cucumber
0.5 bunch of radishes
30 g (1 oz) sunflower seeds
For the dressing:
1 tbsp sweet mustard
1 tbsp vegan honey (alternatively maple syrup or agave syrup)
0.5 lemon (juice)
4 tbsp olive oil
Instructions
For the hash browns, finely slice the onion and mix with vegan spaetzle and plant-based cheese. Season with onion powder, garlic powder, salt, and pepper. Add one-eighth of the mixture to a coated pan and flatten with a spatula to create a hash brown. You do not need oil for frying. Fry on both sides for about 5 minutes over medium heat until the hash browns are slightly brown and crisp.

Finely dice the smoked tofu and fry in a separate pan with a bit of vegetable oil until crispy.

Mix sweet mustard, plant-based yogurt, and plant-based mayonnaise for the dip and season to taste with salt and pepper.

Wash and chop lettuce, cucumber, and radish and combine everything in a bowl. Also, mix sweet mustard, vegan honey, lemon juice, and olive oil for the dressing and pour over the salad. Top with sunflower seeds.

Serve the hash browns with salad, smoked tofu cubes, and dip.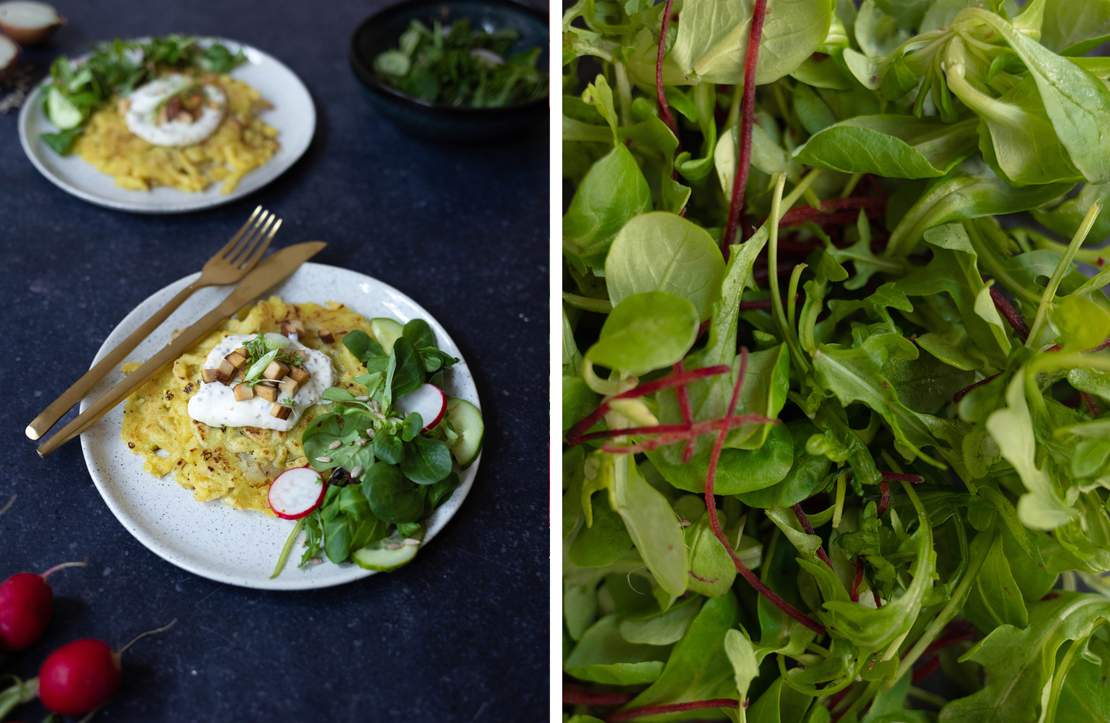 More Vegan 30 Minute Recipes