Good morning, darling! Breakfast is served, and we're having a full English Breakfast... with an American touch. Strictly speaking, however, our plate is only part of the Full English Breakfast because it's usually completed with orange juice, tea with milk, and breakfast cereals, for example. I don't know how big the stomachs of the English are, but I definitely had to do with my portion and therefore decided to rather serve a big platter from which several people can take how much they want.
And very strictly speaking, this is a Full English Breakfast with American components as the hash browns and baked beans weren't part of the traditional breakfast, but are very popular nowadays – the hash browns are then served instead of toast, for example. However, the remaining components in our recipe are the classic ones (just vegan, of course): scrambled tofu, fried mushrooms and tomatoes, rice paper bacon, and vegan sausages. Each in itself is actually simple to prepare. What I found much more complicated was the timing so that everything ended up warm on the plate. I, therefore, kept some things warm in the oven. But let's go through all the components one by one again.
Vegan hash browns: For me, hash browns are the main component of this breakfast because they are the most time-consuming. It's important to let the potatoes sit after grating and seasoning so that they lose liquid. Afterward, they are mixed with flour and pan-fried. Rice flour makes for super crispy hash browns, but regular flour works just as well. We also used a dessert ring to shape the hash browns into circles, but of course, that's just for the eye, and you can just add them to the frying pan as it is – no cookie-cutter or dessert ring needed.
Vegan scrambled eggs: Our "classic "recipe for scrambled tofu is quick and easy to prepare and can be kept warm in the frying pan or oven until the remaining breakfast is ready. If you like, add more vegetables like bell peppers or green onions.
The baked beans: They are one of the most relaxed components of the breakfast because you can buy them canned, so all you have to do is heat them up while the rest is prepared.
The pan-fried mushrooms and tomatoes: The vegetables are also pretty quick and easy to prepare and can then be kept warm in the frying pan or oven. To save a frying pan, you can first sauté the mushrooms (season them with salt and pepper only after they are fried) and then move them to the side and add the halved tomatoes. The tomatoes should only get some light roast flavors. The classic breakfast calls for large tomatoes, but you can actually use any kind you like.
The vegan sausages: Grab for the vegan sausages you like the most or have a look at our vegan shopping guide on sausages – maybe you'll find some plant-based sausages you don't know yet.
The rice paper bacon: If you can find vegan bacon to buy directly, you can, of course, use it. The vegan bacon from our vegan shopping guide on cold cuts would fit great here, for example. However, we wanted a crispy substitute with ingredients you can find more easily, so we fell back on our tried and true rice paper bacon, which you already know from some other recipes. Rice paper is available in almost every major supermarket and, of course, in Asian supermarkets.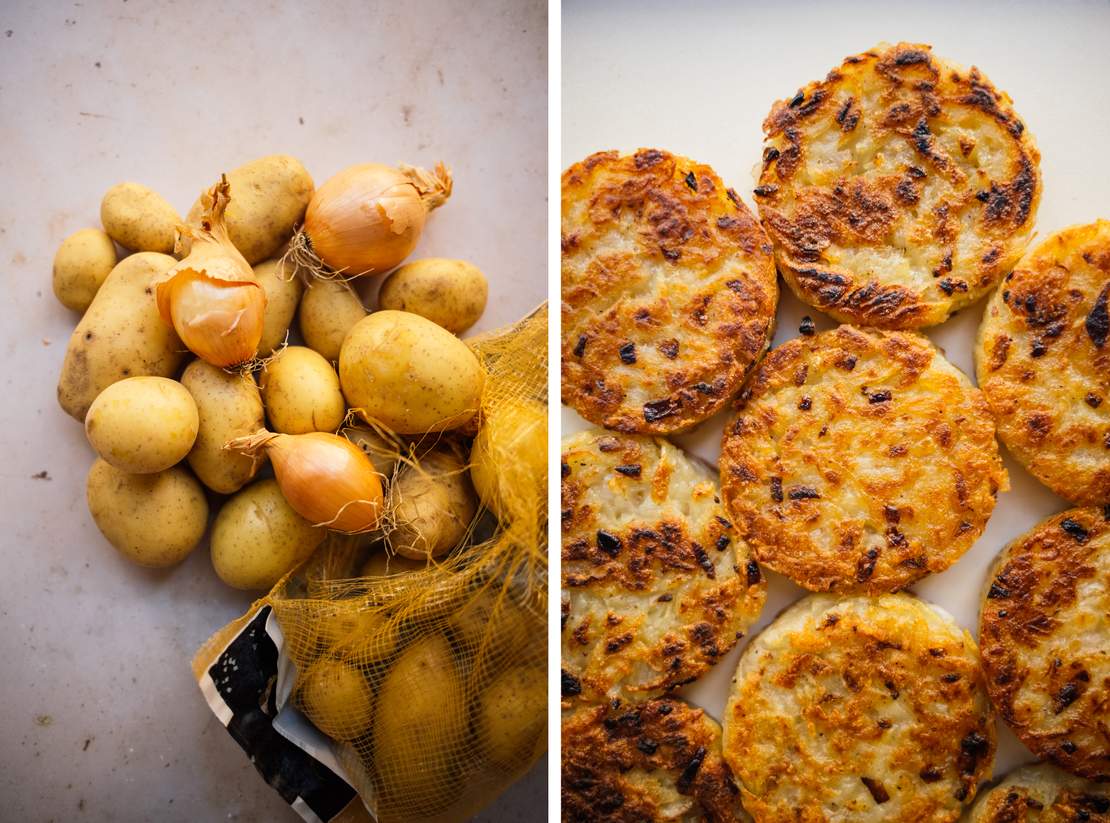 Vegan English Breakfast
2 plates or 1 large platter
60 minutes
Ingredients
For the hash browns:
500 g (1 lb) primarily waxy potatoes
1 onion
2 tbsp flour (or rice flour)
salt
pepper
nutmeg
vegetable oil for frying
For the rice paper bacon:
4 sheets rice paper
2 tbsp soy sauce
0.5 tbsp liquid smoke
1 tbsp maple syrup
1 tsp mustard
water
Also:
150 g (5.5 oz) button mushrooms
2 tomatoes
1 can baked beans
6-8 plant-based sausages
scrambled tofu (see recipe below)
Instructions
First, prepare the hash brown. Peel and roughly grate potatoes. Next, peel and finely dice the onion. Add both to a large bowl, generously season the mix with salt and pepper, and let it sit for approx. 10 minutes. After this time, squeeze out the mixture to lose as much liquid as possible. Transfer it back to the bowl, add flour, and season with nutmeg.

Heat vegetable oil in a frying pan over medium heat. If you're using cookie cutters, grease their insides with some vegetable oil as well, then place them inside the pan. Add some of the potato mixture to the cookie cutters and press it down. As soon as the bottom side is golden brown, carefully remove the cookie cutter (it will be hot!). Flip the hash browns and keep frying until they're browned and crispy. Of course, you can also fry the hash browns without any cookie cutters. Remove them from the frying pan and transfer them to paper towels to degrease them.

Prepare scrambled tofu according to our recipe below, then transfer it to a heatproof dish and set aside.

Preheat the oven to 180°C/355°F (top and bottom heat). For the marinade, whisk together soy sauce, liquid smoke, maple syrup, and mustard and transfer it to a shallow dish. Prepare a large bowl of water that's larger than the rice paper. First, place two rice paper sheets in the water, one at a time, for 3 seconds each, and then place one on top of the other on a cutting board. Cut into wide strips with scissors or a knife. Pull the strips quickly through the marinade so that they're coated from both sides, then transfer them to a lined baking sheet. Bake for approx. 7 minutes, but keep an eye on them – you should remove them from the oven even if they are not looking crispy. Once they are drying out in the air, they might get too crunchy otherwise.

As soon as the rice paper bacon is out of the oven, turn off the oven, but add the hash browns and scrambled tofu to keep them warm.

Open the can of baked beans and transfer them to a saucepan. Warm them up over medium-low heat.

Fry plant-based sausages in a frying pan with some vegetable oil, then keep them warm over low heat.

Parallelly, clean and halve (or quarter) mushrooms and halve tomatoes. In a second frying pan, heat some vegetable oil and sear the mushrooms until they are browned, then push them to the side and add the tomatoes to the frying pan with the cut side down. Fry until they are roasted, then remove from heat and season the mushrooms with salt and pepper to taste.

Finally, serve all components of your vegan English breakfast on a platter or plates: hash browns, scrambled tofu, baked beans, fried mushrooms and tomatoes, plant-based sausages, and rice paper bacon.
Vegan Scrambled Tofu
Ingredients
400 g (14 oz) plain tofu
25 g (3 tbsp) chickpea flour
125 ml (0.5 cup) plant-based milk
2 tbsp nutritional yeast
0.5 tsp turmeric
0.5 tsp paprika
0.5 tsp kala namak salt
1 red onion
1 bell pepper
salt & pepper
garden cress for serving
vegan butter or vegetable oil for frying
Instructions
Add chickpea flour and plant-based milk to a bowl and stir to combine. Crumble tofu with your hands and add to the flour-milk mixture. Now add nutritional yeast, turmeric, paprika, and kala namak. Season with salt and pepper, then stir to combine.

Peel and finely dice red onion, then also dice bell pepper.

Heat vegan butter in a frying pan and fry onion for approx. 3 minutes until translucent. Add bell pepper and keep frying for approx. 3-4 minutes, or until softened. Now add the tofu mixture and fry for approx. 10 minutes, or until browned and warmed. Serve with fresh garden cress and enjoy for breakfast!