Vegan Greek Salad with Almond-Cashew Based Feta
Many people think that salad isn't filling, but this one will convince them all otherwise, I promise!
According to Wikipedia,a Greek salad is actually only served as a starter. However, we've packed everything that goes into a classic Greek salad and more into our adaption which makes it even a main salad dish. On top of a mountain of cucumbers, tomatoes, black olives, green peppers, and red onions you'll find orzo pasta and homemade vegan feta made from almonds and cashews. The homemade feta is wonderfully crumbly and pairs perfectly with this salad. Alternatively, we also have a vegan "feta" from tofu on the blog if you prefer that, or you can just use your favorite vegan feta cheese from an organic store or supermarket.
Orzo pasta, or kritharaki, is something we all eat far too rarely anyway, so they had to join the party this time. They're quite easy to get in any bigger supermarket. Sometimes you have to check out the deli and international specialties departments instead of the regular pasta shelf.
The recipe is a great to-go-option for work, school, or even for a roadtrip. If you're looking for more filling salad ideas, check out the following recipes: vegan asparagus salad à la Salade Niçoise, vegan rice noodle salad with baked tofu & lemongrass dressing, vegan taco salad with beaf-style walnut "meat", or our winter salad with oven vegetables and turmeric dressing.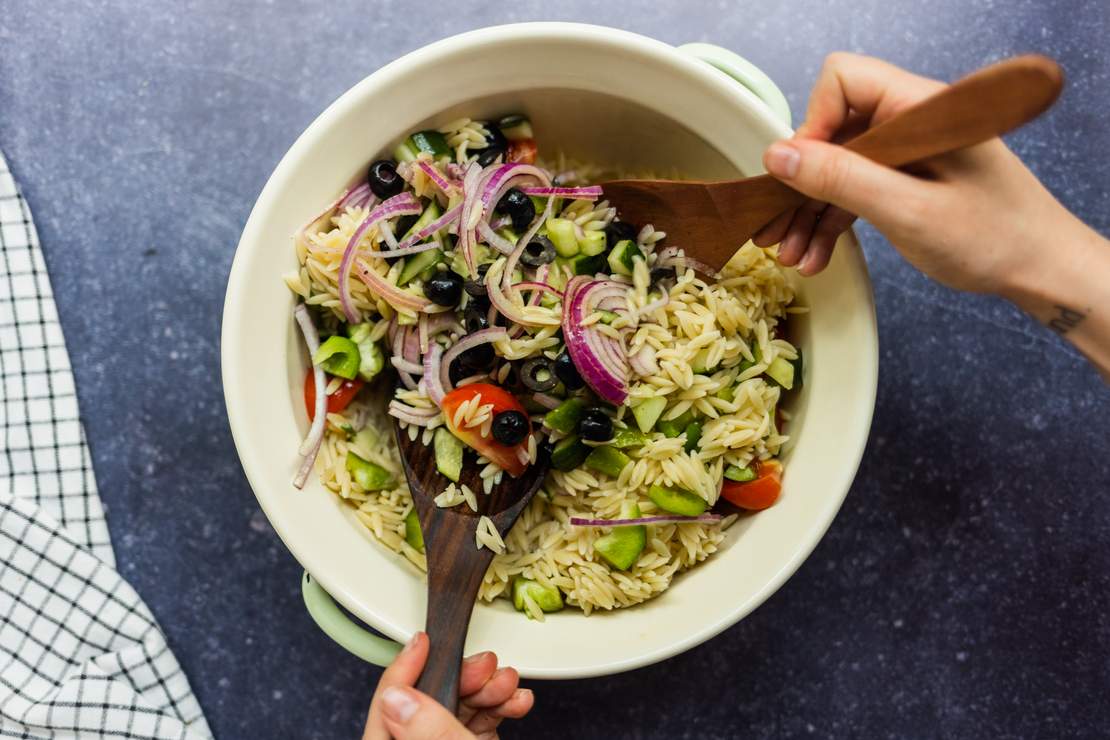 Vegan Greek Salad
Ingredients
For the salad:
250 g (9 oz) orzo pasta
1 cucumber
1 green bell pepper
250 g (9 oz) cherry tomatoes
1 red onion
100 g (3.5 oz) black olives
For the dressing:
3 tbsp olive oil
1 tbsp lemon juice
1 tsp mustard
salt
pepper
Also:
Instructions
Bring a pot of salted water to a boil and cook orzo pasta according to package instructions until they are al dente, then drain and transfer them to a large salad bowl.

In the meantime, dice cucumber and green bell pepper, and halve the cherry tomatoes. Peel the red onion and cut into fine rings. Halve the black olives.

For the dressing, mix olive oil, lemon juice, and mustard in a small bowl. Season with salt and pepper to taste.

Add the chopped vegetables and dressing to the orzo pasta and mix well. Sprinkle vegan feta cheese on top and serve.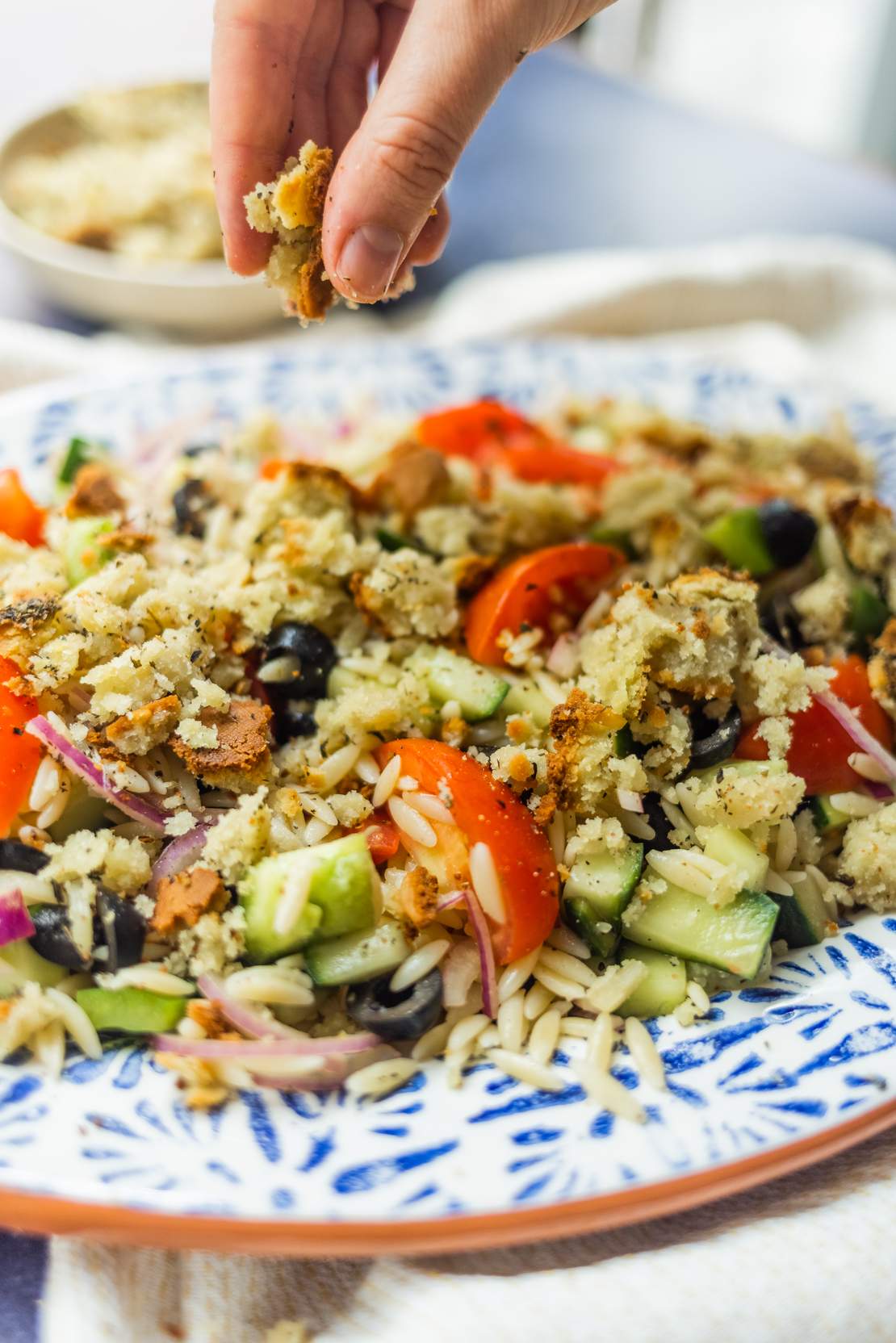 Vegan Baked Almond-Cashew Feta
approx. 300 g (10.5 oz) plant-based feta cheese
2 hours (+ waiting time)
Ingredients
For the nut mixture:
200 g (7 oz) blanched almonds
100 g (3.5 oz) cashews
0.5 lemon (juice)
4 tbsp olive oil
2 cloves garlic
1.5 tsp salt
For the herb mixture:
4 tbsp olive oil
3 tbsp dried herbs (e.g. basil, thyme, rosemary, marjoram, ...)
Instructions
Add blanched almonds and cashews to a bowl and cover them with fresh, warm water. Let the nuts soak for at least 1 hour, then drain and rinse under clean water.

Add the soaked nuts to a food processor along with lemon juice, olive oil, peeled garlic cloves, and salt. Blend everything well until you get a slightly sticky mixture. Season with salt to taste.

Set a colander over a large bowl and place a cheese cloth or clean kitchen towel over the colander. Transfer the almond-cashews mix into the colander, then gather the corners of the cloth to tightly cover the nut mixture and secure it with a rubber band. Set the strainer over a larger bowl that would catch any possible liquid. Refrigerate the mixture overnight.

The next day, preheat the oven to 180°C/355°F. Unwrap the mixture from the cloth – you should notice that it's drier then before. Transfer it to a small baking dish.

In a small bowl, mix olive oil and dried herbs. Brush the mixture all over your "cheese" ball, then bake it at 180°C/355°F for approx. 30 minutes, or until it's golden brown on top.

This baked vegan feta can be crumbled over salads and vegetable dishes, but can also be eaten as a spread.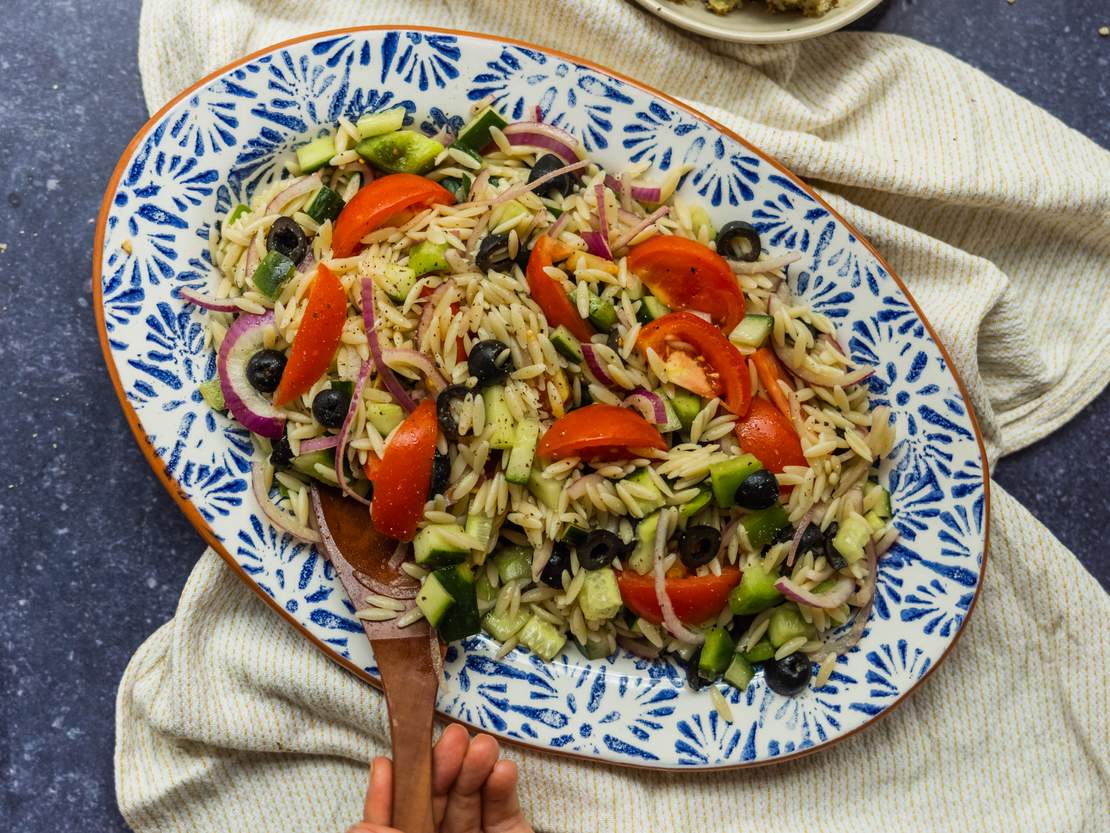 More Plant-Based Cheese Alternatives