Vegan Instant Pasta with Tomato Sauce
When I think of a quick and convenient lunch, sandwiches, salads, or reheated leftovers come to mind. But recently, while shopping, I ran across THE fast lunch par excellence: instant pasta, which is called "5-minute terrine" in Germany. I rarely ate them in my childhood, but I still have clear memories of them. For example, I remember that I definitely didn't wait five minutes to eat them. And I remember that pasta in a wild mushroom cream sauce was my favorite one of them. The quick snack is still available today from various companies, but there's no vegan option. So I created a recipe myself.
The principle of this recipe is clear: you layer several ingredients on top of each other, then pour hot water over them just before eating. After several minutes, everything is mixed together and eaten. This is exactly how we prepared our miso ramen soup in a jar, but for a "classic" 5-minute terrine, I wanted to change a few details, e.g., use pasta, and of course recreate the wild mushroom cream sauce. But that didn't happen.
Problem #1: The pasta. Since I wanted to live up to the claim of a 5-minute lunch, I first tested the recipe with pasta with the shortest possible cooking time. But even the ones that need to cook for just six minutes won't be done if you just pour hot water over them. I have no idea what kind of miracle pasta those big companies use! So, unfortunately, that was no option for our recipe. So I thought back to our jarred miso ramen soup and ended up with instant noodles after all. Your best bet is to check out Asian supermarkets or the Asian aisle of a large supermarket to find noodles that just need boiling water poured over them. Mie noodles might work, but I had the best result in test cooking with instant noodles, which have a cooking time of just two minutes. You can often get them in larger packages to meal prep several of them.
Problem #2: The sauce. In addition to noodles, a typical instant package comes with sad, dried vegetables and powdered sauce. Since turning vegan heavy cream into powder isn't necessarily an option for our lunch, I needed another solution. Here's what I had to worry about, though: Since boiling water is added to cook the pasta, a cream sauce in a jar would get way too watery. I would have had to boil it down to the point that it would have taken forever and required a lot of vegan cream. So I overturned all plans and opted for a much simpler version: tomato paste! It's concentrated anyway, so it can be diluted with water and will still not get too liquidy. At the same time, it's "solid" enough that it doesn't soften the pasta itself overnight.
How you can vary the recipe: Since the tomato paste becomes the sauce, it's seasoned generously. I used chili, paprika, garlic and onion powder, dried oregano and basil, salt, pepper, and sugar. You can also use other spices according to your taste – even paprika pulp as a base would be a great option! I've also added extra sautéed bell pepper and olives - feel free to use any vegetables you like, add dried tomatoes and capers, or omit this component of the recipe completely. Of course, the vegan cheese at the end is optional as well.
A suitable container for your 5-minute pasta: the crucial thing when choosing an appropriate container is heat resistance. It could be a stainless steel lunch box, but also a thick jar - in any case, pay attention to the manufacturer's specifications and do not simply take your favorite jar. Especially with glass, you risk it breaking when you pour in hot water. Pre-portioned, you can keep your homemade meal prep instant pasta for 2-3 days in the fridge.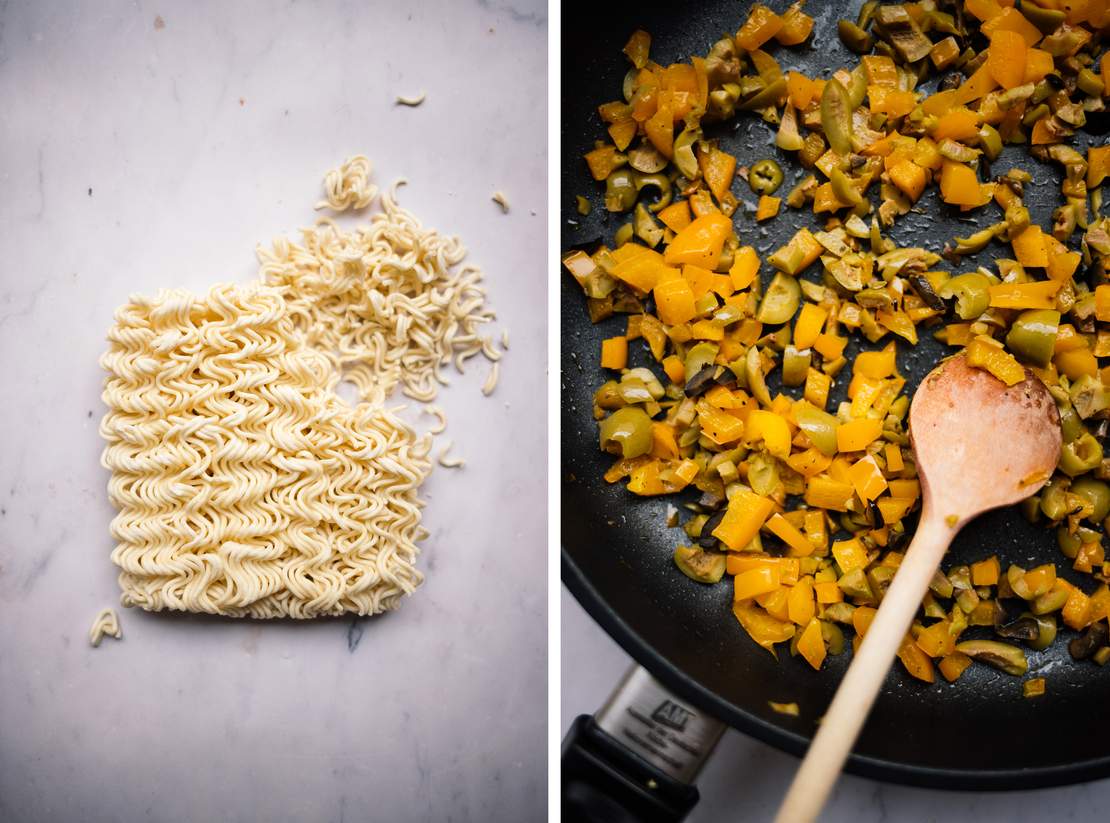 Vegan Instant Pasta with Tomato Sauce
Ingredients
0.5 bell pepper
10 olives
40 g (2 tbsp) tomato paste
0.5 tsp chili powder
0.5 tsp sweet paprika
0.25 tsp garlic powder
0.5 tsp onion powder
1 tsp dried oregano
1 tsp dried basil
0.5 tsp sugar
60 g (2 oz) instant noodles
250 ml (1 cup) hot water
salt
pepper
vegan shredded cheese (optional)
vegetable oil for frying
Instructions
Finely dice bell pepper and olives. Heat vegetable oil in a frying pan over medium heat. Sauté bell pepper and olives for approx. 5 minutes, then set aside.

In the meantime, add tomato paste to a bowl and season it with chili, paprika, garlic and onion powder, dried oregano and basil, sugar, salt, and pepper. Transfer the seasoned tomato paste to the bottom of your heatproof container or jar.

Add fried bell pepper and olives to your jar. Next, crush instant noodles by hand and add them on top.

For serving, pour over hot water. After a few seconds, you should be able to push down the instant noodles to make sure that they're covered with water. Next, close the lid and let the instant pasta sit for approx. 5 minutes. Then stir to mix the sauce and sprinkle vegan shredded cheese on top, if desired.