Vegan Pumpkin Banana Bread with Crumbles
Banana bread recipes and I go way back. Since I started with foodsharing a few years ago, I consistently have ripe bananas at home. In the summer, I turn them into nicecream or smoothies. When the temperatures drop, or I have some time to spend, they become pancakes or any banana bread. With sugar or without, with different oils, many or rather few bananas - it took a long time to achieve the fluffy result I was looking for. This basic recipe can be spiced up according to your mood. And because most people have already found their favorite basic recipe, during lockdown at the latest, I'm putting the autumnal version in the oven for you today.
The fall season opens on Instagram every time on a specific day: The day when the Pumpkin Spice Latte is available for purchase again. When I was 16, I regularly traveled to the nearest bigger city to buy the American hot drink in the famous to-go cup (shame on me). ThenI would proudly parade it around the pedestrian zone. Since then, the sweet pumpkin flavor and the spice blend of cinnamon, ginger, allspice and nutmeg have brought me back to 2016. But since there is hardly a better autumnal flavor combination, I had to put it in a banana bread.
The pumpkin puree I used for the dough I made myself. For this, you can either thaw frozen Hokkaido pumpkin or boil pumpkin yourself and then puree it. In some supermarkets or abroad you are also lucky and can already buy the ready-made pumpkin puree in cans. To round up the recipe, we also add Pumpkin Spice to the crumble and an icing drizzle on the pumpkin banana bread.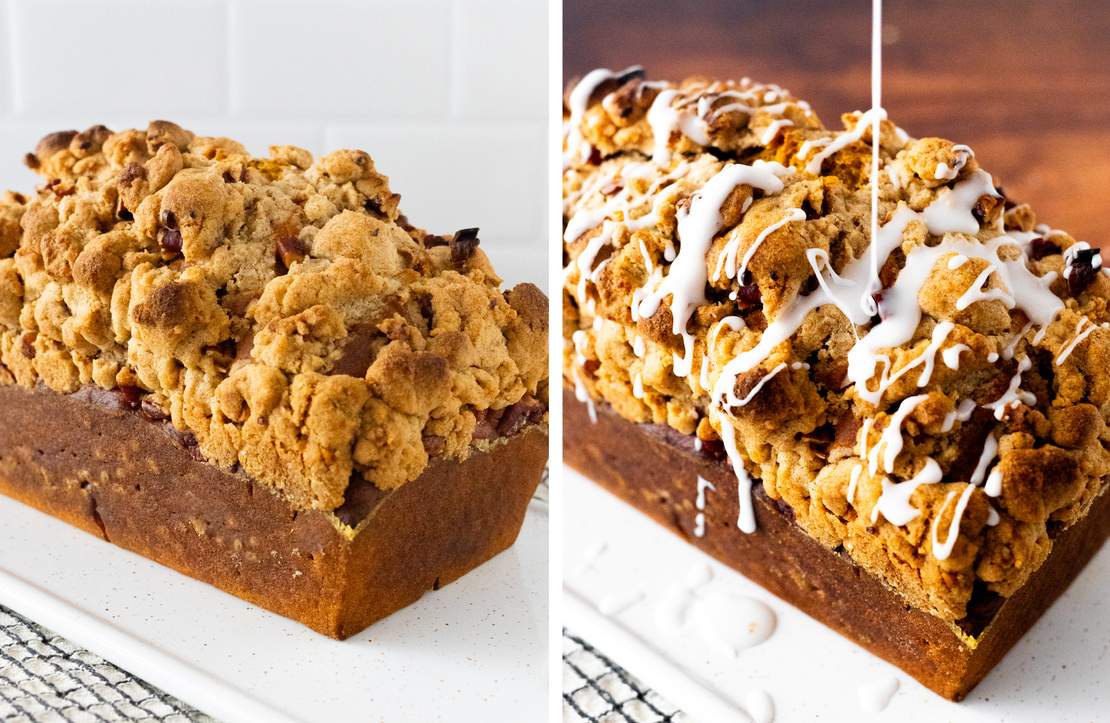 Vegan Pumpkin Banana Bread with Crumbles
1 loaf pan (26 x 11 cm / 10 inches x 4 inches)
20 minutes (+ 50 minutes baking time)
Ingredients
200 g (0.5 lb) pumpkin (cooked) or pumpkin puree
2 bananas (about 250 g / 0.66 lb)
60 ml (0.35 cup)vegetable oil
1 tsp cinnamon
1 tsp pumpkin spice
pinch of salt
250 g (2 cups)flour
80 g (0.5 cup9 brown sugar
2 tsp baking powder
40 g (1.5 oz) pecans
For the crumble:
70 g (0.5 cup) flour
40 g (0.33 stick) vegan butter (cold)
40 g (0.25 cup) brown sugar
1 tsp pumpkin spice
20 g (0.75 oz) chopped pecans
For the frosting:
100 g (1 cup) powdered sugar
2–3 tbsp water
Also:
vegan butter (for greasing)
Instructions
Combine pumpkin puree, bananas, oil, cinnamon, Pumpkin Spice and salt in a bowl. Then add the flour, sugar and baking powder and mix briefly. Finally, coarsely chop pecans and fold in.

In a separate bowl for the crumbles, knead together the flour, cold vegan butter, sugar and Pumpkin Spice. Coarsely chop the pecans and mix with the crumbles.

Preheat the oven to 180 °C / 350 °F (convection heat). Grease the loaf pan with vegan butter and pat out with flour. Now first pour the batter, then add the crumbles to the loaf pan. Bake for about 50 minutes.

Let the banana bread cool completely and take it out of the loaf pan. Make the icing by mixing powdered sugar and water and pour over the cake.