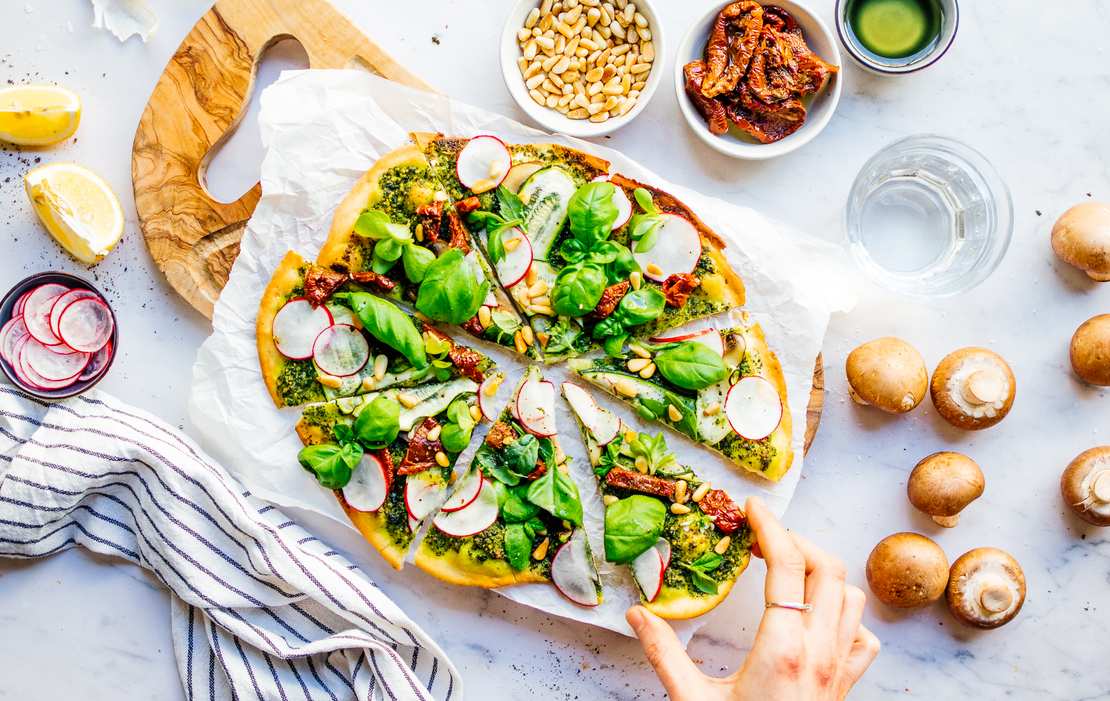 Vegan Spring Greens Pesto Pizza
You know that we are absolutely team comfort food. But of course, that doesn't mean we disdain salads, fruit, and vegetables. Quite the opposite! In every meal, we try to accommodate as much fruit and veggies as possible! For us, both of these are not at all mutually exclusive. The best example of this is our spring pizza because it comes with loads of vegetables and fresh herbs around the corner but is still satisfying and comforting after a long day at the office.
In addition to zucchini and mushrooms, we topped our pizza with sun-dried tomatoes, radishes, pine nuts, and a green pesto made with fresh herbs from Infarm. Infarm grows herbs and lettuces in modern indoor farms (maybe even in your corner supermarket) and harvests them rooted - so they are more intense in flavor and stay fresh much longer! The advantages: Transportation outlay reduces by 90% and water and land use by 95%, plus the company uses no pesticides. You can find Infarm's farms and products here in Germany at Edeka, Kaufland, and Aldi Süd, among others, and brand new online at Gorillas. We used a colorful mixture of fresh herbs for our pizza, such as green mint, Italian basil, dill, wasabi arugula, and purslane.
... But back to the pizza! When it comes to pizza preparation, there are a thousand variations on how to prepare it properly. We have created our personal recipe over time, just the way we like to eat it best. We have collected a few tips for the preparation at home (without a pizza oven), which helped us over the years:
Add the salt to the dough, not at the beginning, but the end.
Allow dough to rise: the longer, the better!
Preheat the oven as hot as possible for at least 20-30 minutes (30-40 minutes is better).
Place a baking tray in the oven while preheating, substituting a hot pizza stone.
Transport the pizza in and out of the oven with a pizza shovel or a cake transfer plate. Alternatively, place the dough on baking paper in advance to make it easier to push it on the hot baking sheet.
Bake the pizzas for 10 minutes at 250°C (485°F) top and bottom heat. Use your oven's maximum temperature for baking!
And now: Bring on the fresh herbs. It's time for a delicious spring greens pizza!
Vegan Spring Greens Pesto Pizza
4 servings (4 pizzas)
45 minuten (+ waiting time)
Ingredients
For the dough:
7 g (0.24 oz)dry yeast
500 g (4 cups) wheat flour type 00 or 405
2 tsp salt
1 tsp sugar
250 - 300 ml (1-1.2 cups) lukewarm water
1 tsp olive oil
For the pesto:
50g (1.75 oz) fresh herbs (e.g., wasabi arugula, mint, dill, basil, purslane).
50g (1.75 oz)pine nuts
100 g (3.5 oz) baby spinach
2-3 cloves of garlic
150 ml (0.66 cups) olive oil
salt
Pepper
Toppings:
1 zucchini/courgette
100 g (3.5 oz) brown mushrooms
100 g (3.5 oz) dried tomatoes
4 radishes
50 g (1.75 oz) pine nuts
olive oil
salt
Pepper
Instructions
For the dough, mix dry yeast, wheat flour, and sugar in a bowl. Gradually add oil and lukewarm water until a smooth dough formes up. Mix first with a food processor or hand mixer at low speed and then knead on medium to high speed. Once the dough is a nice big ball, you can remove it from the bowl and knead it with your hands for about 5 more minutes. Place the dough in a bowl greased with a little oil and let it rest, covered with a kitchen towel, for at least an hour until doubled in volume.

In the meantime, prepare the pesto. Toast the pine nuts in a pan without oil until they smell fragrant and become lightly browned. In this step, you can also roast the pine nuts for the topping. After roasting, set the ratio aside and do not use it for the pesto. In a blender or with a hand mixer, process the pine nuts for the pesto with fresh herbs, garlic cloves, olive oil, salt, and pepper.

For the topping, cut the zucchini into strips and clean and slice the mushrooms with a damp cloth.

Preheat the oven to 250°C (485°F) top and bottom heat (for at least 20 minutes) and place a baking tray directly on the floor of the oven or on the bottom rack so that it gets at hot as possible (if you have a pizza stone, use it at this point, of course).
Tip: The maximum temperature of some ovens is only 220°C (430°F) or 230°C (445°F). But no worries! Just bake your pizza at the maximum temperature. It may take 1-2 minutes longer.
Remove the dough from the bowl, salt generously, and knead it again using your hands. Divide the dough into four and roll out thinly on a floured work surface. Now place each dough patty on baking paper to later be easily positioned on the hot baking sheet (a pizza peel or pie slice would be ideal, of course). Cover the patties with a damp kitchen towel and let them rise for another 15 minutes.

Now, spread the pesto on the four dough patties and top with zucchini strips and mushroom slices. Carefully remove the hot baking sheet from the oven and place the pizzas on it. Bake the pizza for 10 minutes at 250°C (485°F) top and bottom heat.

Prepare the toppings while pizza's baking: Chop dried tomatoes, wash baby spinach, clean and slice radishes and wash and gently shake herbs to dry.

Remove the pizzas from the oven and top with dried tomato, baby spinach, radishes, fresh herbs, toasted pine nuts, a little olive oil, salt, and pepper.