Vegan Croissant Monkeybread with Chocolate Filling
Whether you're looking for an easy cake, a "little something" to bring for a brunch with friends, or if you fancy something more than "just a chocolate croissant" for breakfast: this recipe is here to make you all very happy.
But what's actually the very best thing about this recipe: EVERYONE will manage to bake this as it doesn't get easier. All you need to do is to fill some croissant dough, roll it, and bake it. As the base, we're using a pre-made vegan croissant dough that you can buy in the supermarket. If there shouldn't be croissant dough in particular, vegan puff pastry will also do the trick. It only needs to be defrosted and soft.
If you should have seen or even baked this recipe a few years ago, you'll notice that we changed the ingredient list a bit. In the past, we also filled this monkeybread with vegan marshmallows, but since not everyone can find these nearby, we decided to focus on chocolate only. No worries, it still tastes outrageously tasty. Plus, it's also a very comfy dish to serve as everyone can just pull out the small croissant dough balls piece by piece.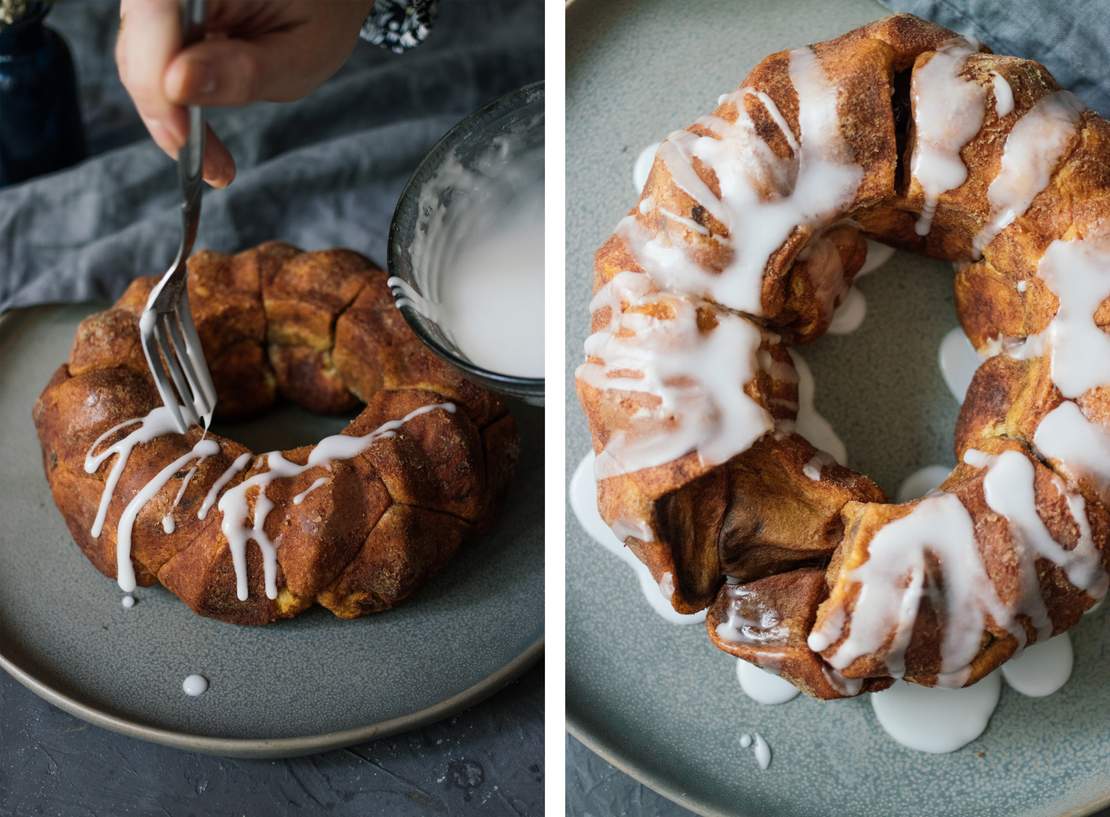 Vegan Croissant Monkeybread with Chocolate Filling
Ingredients
pre-made vegan croissant dough (for approx. 12 croissants)
150 g (5.5 oz) vegan chocolate spread
50 g (2 oz) dark chocolate
5 tbsp raw cane sugar
2 tbsp ground cinnamon
5 tbsp confectioner's sugar
vegan butter for greasing
flour for dusting
water
Instructions
Remove croissant dough from the fridge and let it warm to room temperature, or until it's soft enough to roll it. If the dough is already marked with triangles for the croissants, cut it accordingly, then half again in order to get 24 small triangles out of the dough.
Preheat oven to 180°C/355°F. Grease a bundt cake pan with vegan butter and dust with flour, then set aside.
Cut dark chocolate into 24 small pieces. In a bowl, mix brown sugar with cinnamon. According to your taste, feel free to adjust the sugar to cinnamon ratio.
Add 1 tsp of vegan chocolate spread and one piece of dark chocolate in the center of each dough triangle. Carefully fold the dough over the filling and roll it into a ball.
Roll the filled croissant ball in the sugar-cinnamon mixture until it's cover from all sides. Then transfer the dough into your prepared cake-pan. Repeat this step with all remaining croissants triangles. If needed, use more chocolate spread or more sugar-cinnamon coating.
Bake at 180°C/355°F for approx. 15 minutes, or until the dough is baked through and not too dark. Remove the monkeybread from the oven, but let it cool for a few minutes before turning it out.
Add confectioner's sugar and a little bit of water to a bowl and stir to combine until a thick icing forms. Drizzle the monkeybread with the icing, and serve warm or cooled down!