Sandwich Sunday: We love sandwiches, but unfortunately, most of the classic and famous ones are not vegan. This is why we're celebrating vegan Sandwich Sunday and present a new veganized classic sandwich each month. From Grilled Cheese Sandwich to Pastrami Sandwich – you can find all our vegan sandwich recipes here.
Maybe you've already eaten today's Sunday Sandwich on a trip through the U.S. in some hotel, hostel or motel. Yes, it's all about the Club Sandwich!
Say Hello to: Club Sandwich
About the how and why: You've probably learnt from our last Sandwich Sunday episodes that there's almost never a clear origin story of a sandwich. It's the same with the Club Sandwich, that was first mentioned on a restaurant menu around 1900 – but who invented it? Many of the theories point towards New York, so maybe it was the "Union Club of New York City" that offered a"Union Club sandwich", but was it the first one? Or was it this gambling club in Saratoga Springs that (FUN FACT!) invented the potato chip?
What's usually on it: The Club Sandwich is way more versatile than the sandwiches we've introduced so far. The classic features roasted white bread, mayonnaise, iceberg lettuce, bacon and tomatoes, but there are also options with chicken breast, turkey and cheese and even vegetarian versions with spinach or avocado. Instead of mayonnaise you also find mustard or honey-mustard sauce on it.
How we do it: Since there are several Club Sandwich options on the market, we chose to go for a classic with some vegan features. So white bread, vegan mayonnaise, salad and tomatoes meet mustard-maple syrup sauce and eggplant bacon (find the recipe below). There were some slices Tofurky left in our fridge, so we used them as well, but feel free to go with eggplant bacon only, if there's no Tofurky near you.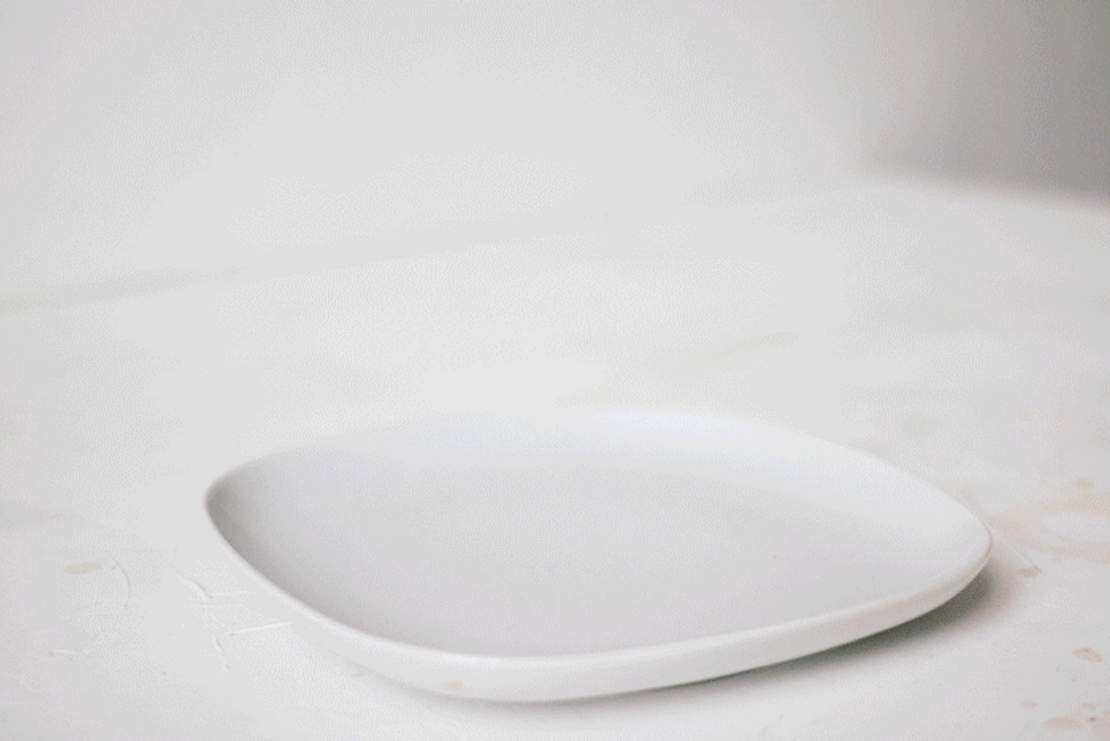 Vegan Club Sandwich
Ingredients
12 slices of white bread for toasting
2 romaine hearts
5 tomatoes
4 tbsp vegan mayonnaise
3 tbsp mustard
1.5 tbsp agave syrup (or maple syrup)
4 pickles
8 – 16 slices aubergine bacon
1 package Tofurky (optional, otherwise only use aubergine bacon)
Instructions
Start by preparing our vegan aubergine bacon. You can find the recipe below.

While the aubergine slices bake in the oven, you can prepare all vegetables for the sandwich. Slice tomatoes, prepare romaine hearts and mix agave syrup and mustard in a bowl.

One the aubergine bacon is done and all ingredients are prepare, you can roast the white bread. Spread vegan mayonnaise on it and top with romaine hearts, aubergine bacon and tomato slices. Add another roasted slice of white bread on it and spread it with some of your agave-mustard-mixture, then top with romaine hears, aubergine bacon (or Tofurky, if you're using it) and more tomato slices. Finish with the last roasted slices of white bread and carefully stick a pickle on top of your Club Sandwich.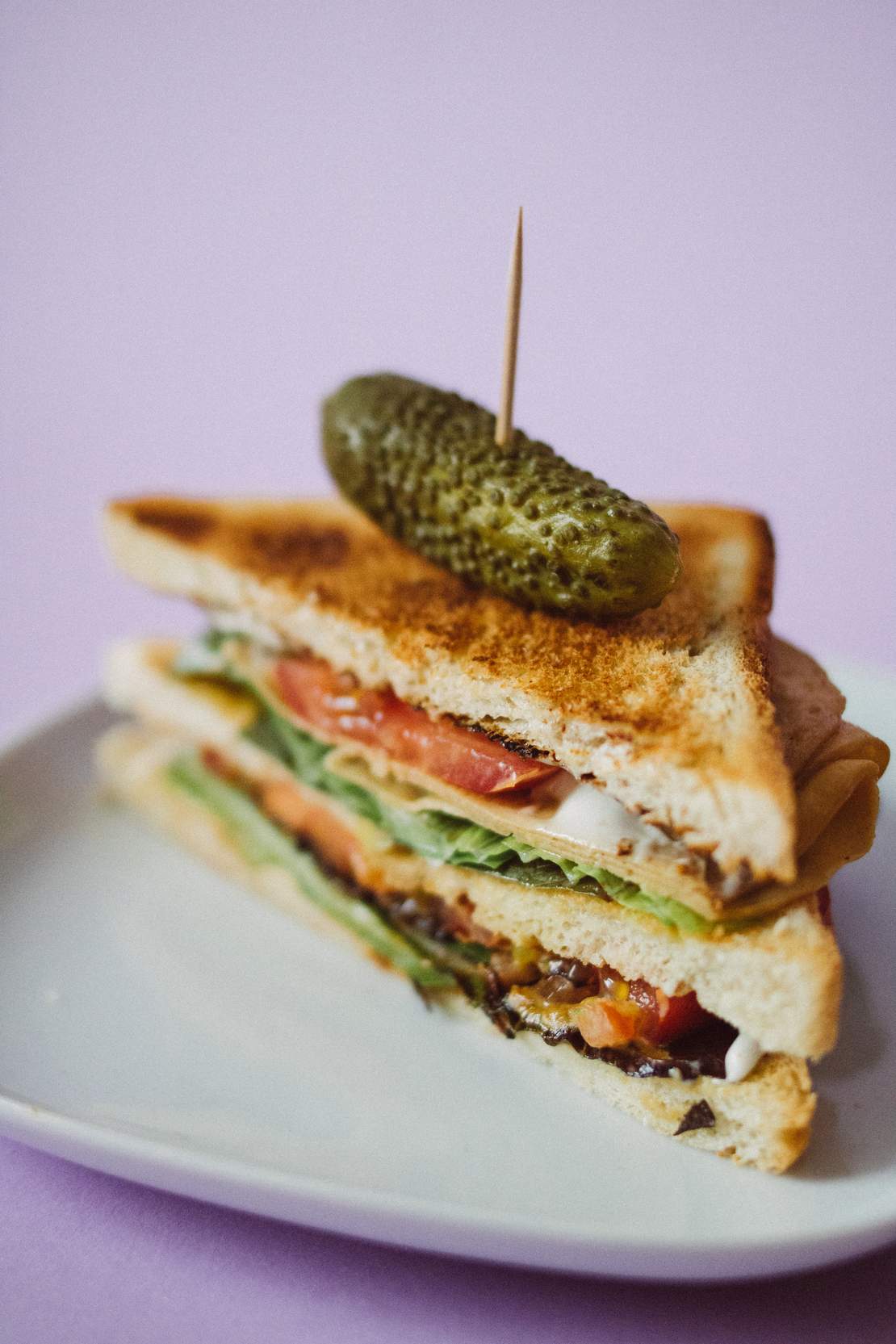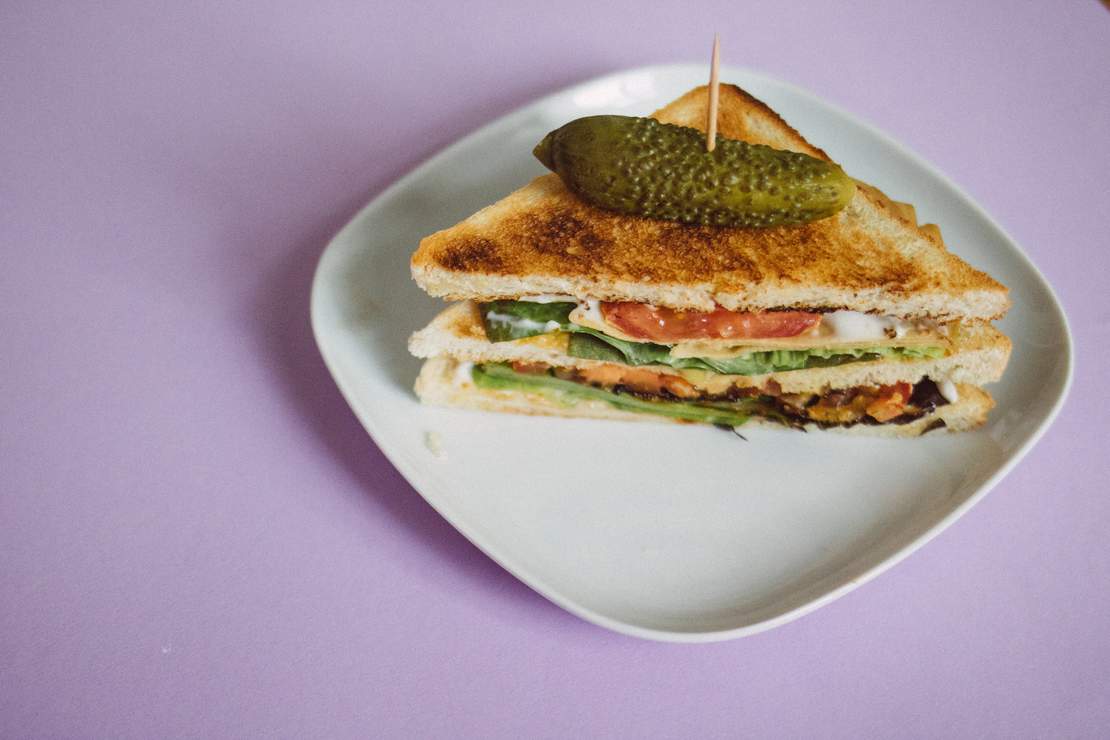 Vegan Eggplant Bacon
Ingredients
1 eggplant
2 tbsp soy sauce
2 tbsp liquid smoke
2 tbsp agave nectar
1 tsp mustard
1 tsp smoked paprika
salt
pepper
Instructions
In a small bowl, mix soy sauce, liquid smoke, agave nectar, mustar, and smoked paprika. Season with salt and pepper and set marinade aside.
Use a vegetable peeler or a knife to thinly slice eggplant. Transfer onto paper towels and salt them in order to "dehydrate". You will notice small drops of water appearing on the eggplant slices after a few minutes. Let rest for 10-15 minutes and afterwards brush off the salt.
Heat some vegetable oil in a large frying pan and fry eggplant slices from both sides. This step is important for the texture at the end, because otherwise it might get a bit too soft.
After frying, drip fat off with kitchen paper and transfer eggplant slices on a baking sheet. Brush with marinade from both sides and then bake in the oven at 200°C/390°F for approx. 8 minutes. The time can depend according to the thickness of the eggplant slices, so better take a look in the oven from time to time to avoid any burning.
More Sandwich Sunday - Vegan Sandwich Recipes