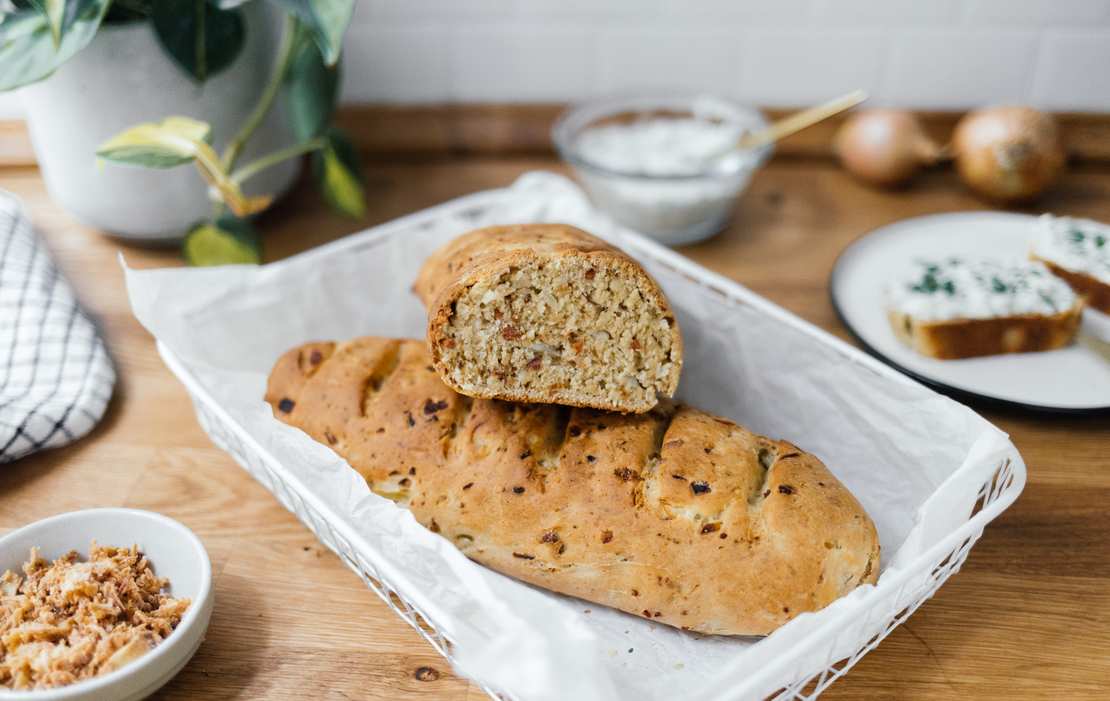 Whether you enjoy it as a hearty snack or a side dish for soups, barbecue, fondue, or raclette – you will love this super fluffy onion bread! For a complete onion experience, we've hidden onions in the dough in three different forms: fresh, deep-fried, and dried and ground as a powder. If that's still not oniony enough for you, you can, of course, eat the bread together with our world's best vegan onion dip.If the onion flavor in the bread is enough for you, why not try it with a vegan herb spread and dip, a creamy vegan cheese spread or a vegan herb or tomato butter which all taste great with this bread.
In addition, you can add other ingredients to the dough such as olives, dried tomatoes,vegan cheese, sunflower seeds, and much more. However, we decided to use only dried herbs and vegan bacon to ensure that the other ingredients won't steal the limelight from our beloved onion. By the way, the bread tastes even better the next day when the onion flavor has developed a bit more.
The preparation of the bread is very simple as you only have to prepare a yeast dough and knead in all the ingredients of your choice. Then let the dough rest for a while, and your bread is ready to go into the oven until it's golden brown. Have fun baking!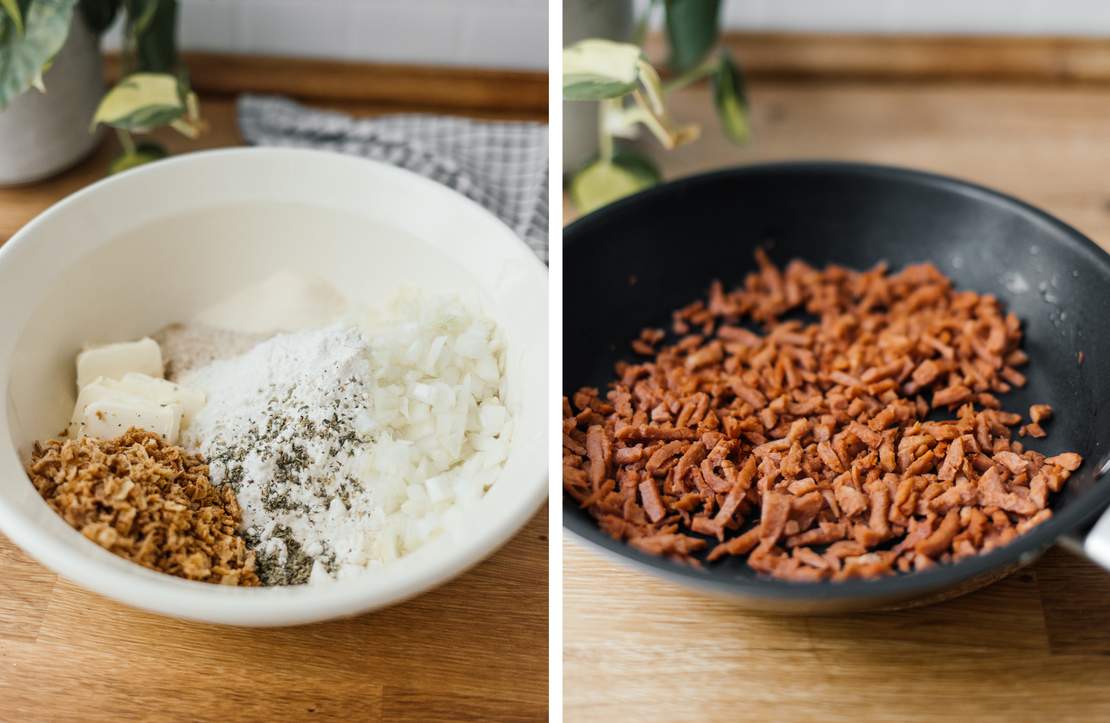 Vegan Onion Bread
2 loaves of bread
20 minutes (+ 90 minutes resting time + 30 minutes baking time)
Ingredients
200 ml (0.75 cup) plant-based milk (lukewarm)
30 g (1 oz) fresh yeast
2 tsp sugar
500 g (4 cups) spelt flour type 630
1 tsp salt
80 g (0.33 cup) vegan butter (room temperature)
1 tsp dried Italian herbs
0.5 tsp cayenne pepper
0.5 tsp sweet paprika
2 tbsp apple cider vinegar
3 tbsp nutritional yeast
3 tsp onion powder
50 g (2 oz) fried onions
3 fresh onions
100 g (3.5 oz) vegan bacon or smoked tofu
vegetable oil for frying
Instructions
For the dough, pour lukewarm plant-based milk into a bowl and crumble in the yeast. Add sugar and let the mixture stand for 10 minutes until small bubbles form on the surface. Meanwhile, mix flour, salt, dried herbs, cayenne pepper, apple cider vinegar, nutritional yeast, onion powder, and fried onions in a large bowl. Peel and dice the fresh onions and add them as well.

Add the yeast mixture and soft vegan butter to the flour bowl and knead all ingredients into a smooth dough. Transfer the dough to a lightly oiled bowl, cover with a clean kitchen towel, and let rise in a warm place for about an hour or until it has doubled its volume.

In the meantime, heat vegetable oil in a pan and fry the vegan bacon until crispy.
Tip: If you can't find vegan bacon, you can dice and fry smoked tofu instead.
When the dough has risen for long enough, add the vegan bacon and knead again briefly. Next, shape the dough into two oblong loaves and transfer them to a baking sheet lined with parchment paper. Score them several times with a knife and let them rise for another 30 minutes. Meanwhile, preheat the oven to 200°C/390°F (convection heat).

Bake the bread at 200°C/390°F for approx. 30 minutes or until the loaves are golden brown.