Vegan Peanut Butter Jelly French Toast Sticks
Is it French toast? Is it a peanut butter jelly sandwich? It is: both! And more. Did I overdo this recipe a bit? Maybe. But these crunchy sweet toast sticks will definitely sweeten your breakfast and even make some pancakes go green with envy.
Actually, I just wanted to develop a new French toast recipe for us (you can already find a rather classic version here), but then everything got out of control during test cooking, and I kept trying something new. How about stuffed French toast? How about cutting the bread smaller so you could easily dip it? And how about combining it all with a peanut butter jelly sandwich? So the result are cinnamonic peanut butter french toast sticks.
It's really important for this recipe to use stale bread, not fresh one. I've also done some test cooking with fresh bread, but it tears while frying as the liquid mix makes it too soft. French toast is really made for bread that has been sitting for a day or overnight, but it shouldn't be too hard either.
There are many ways to adjust these toast sticks. Of course, you don't have to cut the bread into thirds, but you leave it whole instead. You can also spread the toasts with jam or peanut butter only or use completely different nut butter.
For the liquid mixture for dipping, you can use soy flour instead of chickpea flour, agave syrup instead of maple syrup, and vanilla pulp instead of vanilla extract. The only important thing is that you need some flour for binding, as well as something for sweetening and something for the vanilla flavoring.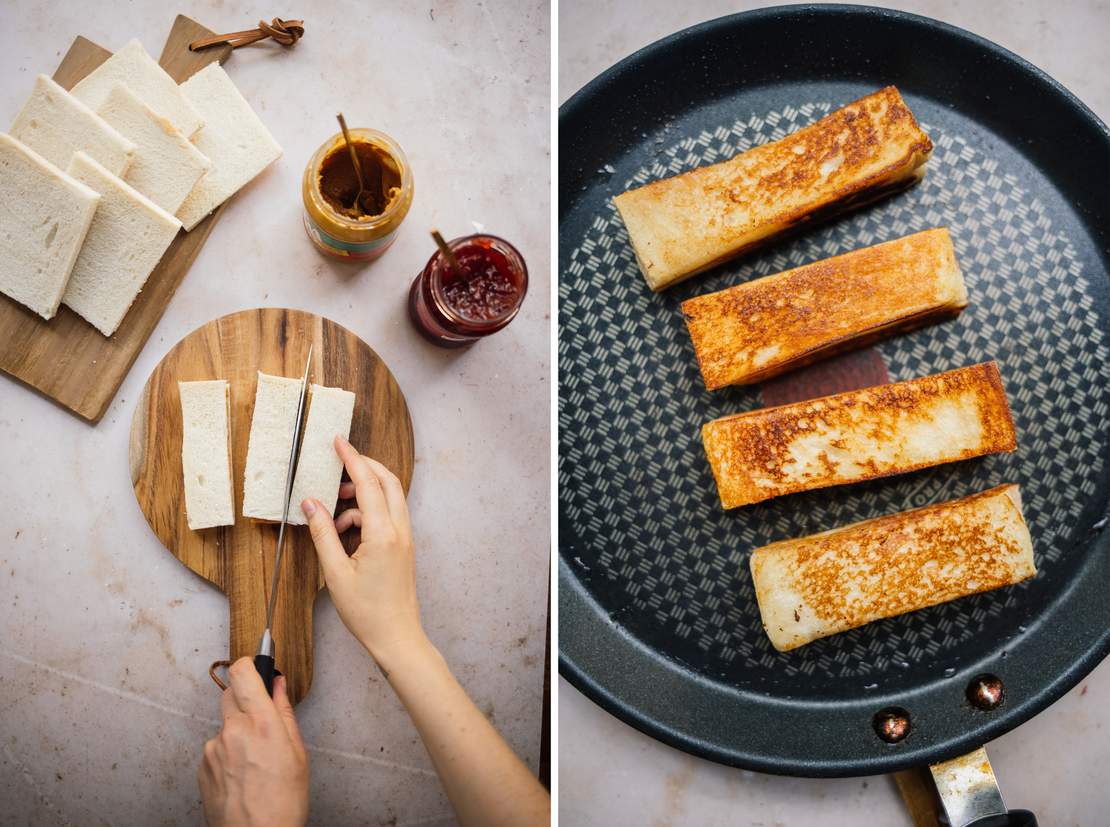 Vegan Peanut Butter Jelly French Toast Sticks
Ingredients
For the toasts:
8 slices white bread (stale)
approx. 4 tbsp peanut butter
approx. 4 tbsp jam
For the creamy mix:
125 ml (0.5 cup) plant-based milk
2 tbsp chickpea flour (or soy flour)
1 tbsp agave syrup (or maple syrup)
5 g (0.5 tsp) vanilla paste
salt
For the sugar-cinnamon mix:
5 tbsp sugar
1 tsp ground cinnamon
1 pinch salt
Also:
vegan butter or vegetable oil for frying
fresh berries for serving
vegan whipped cream for serving
Instructions
For the creamy mix, add plant-based milk, chickpea flour, agave syrup, vanilla paste, and a pinch of salt to a deep plate and whisk to combine.

For the sugar-cinnamon topping, mix sugar, ground cinnamon, and a pinch of salt in a bowl.

If desired, remove the bread crust of your white bread slices. Spread peanut butter and your favorite jam on half of the stale bread slices, then top with the other half of the bread to create sandwiches. Cut each sandwich into three stripes.

Heat vegan butter or vegetable oil in a non-stick frying pan. Dip your breadsticks into the creamy mix, then transfer them directly to your hot frying pan. Fry over medium heat for approx. 4-5 minutes, or until the breadsticks are golden brown and crispy from all sides.

Sprinkle the toast sticks with the sugar-cinnamon mix and serve with fresh berries, other fruits, or whipped vegan cream.