It was 2017 when we first published this recipe on the blog as hangover food. We've finally managed to reshoot our vegan poutine and adjusted the recipe almost five years later.
But before we get to our recipe adjustments, here's a little explanation for those to whom poutine means nothing at all: it's a fast-food classic in Canada that we'd like to see more often on German menus. Poutine consists of fries as a base, doused with gravy, and topped with cheese curds. And that's exactly the big challenge if you want to recreate or even veganize this dish.
You can't even find cheese curds everywhere in Canada, so they are even rarer to get in Germany, and it's completely impossible to get them vegan. So we had to find a substitute. We simply cut vegan cheese into small dices in our first recipe version. However, years later, we have to say that most vegan cheeses still don't give you much when you just use them as they are (even when they're covered with gravy). So, for our new version, we decided to make something completely different: creamy cashew ricotta seasoned with oregano, nutritional yeast, garlic, and some lemon. Of course, if you don't like that, you could also choose the following options:
✖ vegan mozzarella
✖ vegan queso dip
✖ vegan cottage cheese
✖ baked vegan feta cheese made with almonds and cashews
So let's just think of those cheese curds as more of a creamy, tangy component to the dish and don't necessarily replace them with some boring "dry" chunks of plant-based cheese, deal? For the gravy, we recommend a quick recipe so that you can have a wonderful hangover meal or just fabulous fast food on your plate in 45 minutes. Of course, you can also make classic fries to go with it – we just prefer wedges.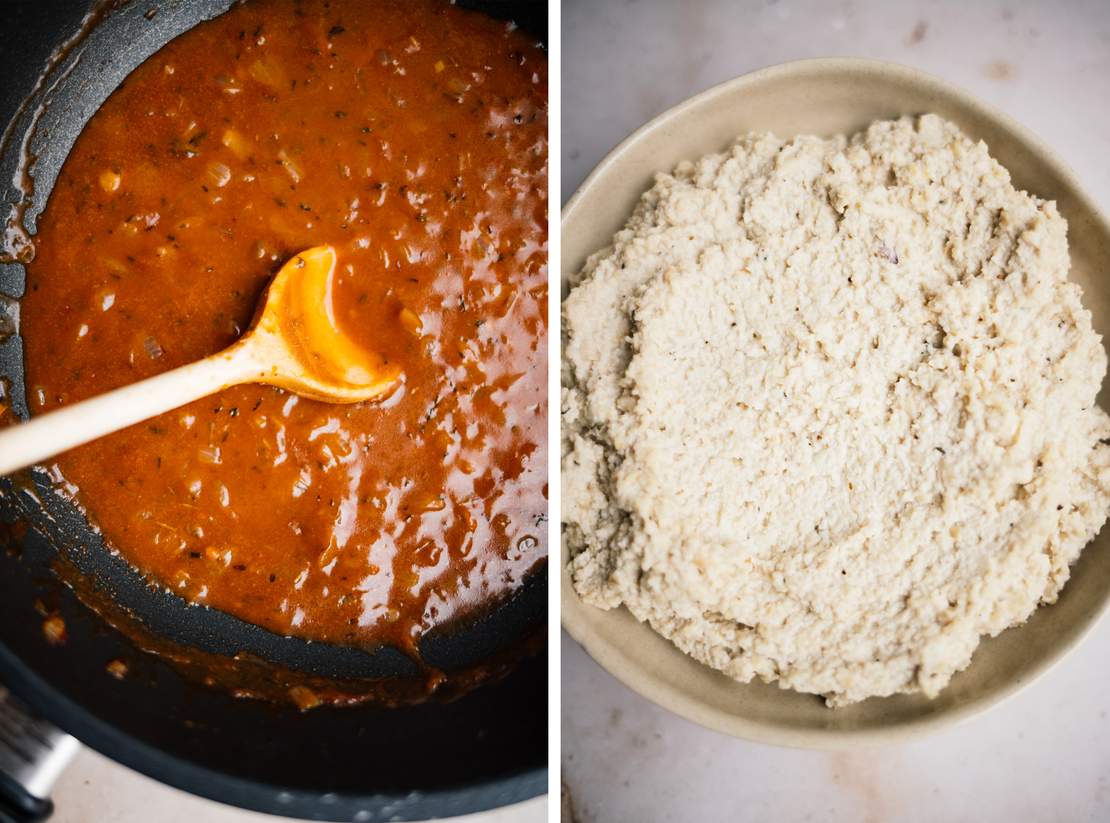 Vegan Poutine
Ingredients
For the wedges:
1 kg (2.25 lbs) potatoes (vorwiegend festkochend)
2 tbsp olive oil
salt
pepper
For the quick gravy:
2 onions
2 tbsp vegan butter
0.5 tsp dried thyme
1 tsp tomato paste
1 tsp mustard
2 tbsp flour
200 ml (1 cup) vegetable broth
1 tsp soy sauce
vegan red wine (optional)
salt
pepper
For the cashew ricotta:
125 g (4.5 oz) cashews (soaked in water for at least 30 minutes, but best overnight)
50 ml (0.25 cup) water
2 tbsp nutritional yeast
1 garlic clove
0.5 tsp dried oregano
lemon juice
salt
pepper
Also:
Instructions
Preheat your oven to 200°C/390°F. Wash potatoes and peel them if needed. Next, cut them into wedges and transfer them to a lined baking sheet. Drizzle with olive oil and season with salt and pepper. Bake for approx. 20-25 minutes, or until the potatoes are golden brown and crispy.

In the meantime, peel and finely dice onions for the gravy. Melt vegan butter in a small saucepan and fry onions with dried thyme until translucent. Add tomato paste and mustard and keep frying over medium heat for approx. 2-3 minutes until the tomato paste turns a bit darker. Dust with flour and whisk in vegetable stock. Add soy sauce and vegan red wine, if desired. Season the gravy with salt and pepper to taste and let it simmer until the potato wedges are done.

For the cashew ricotta, add soaked cashews, water, and nutritional yeast to a food processor or use an immersion blender to blend until smooth. Finely grate the garlic directly into the mixture and season the cashew ricotta with dried oregano, lemon juice, salt, and pepper to taste. If needed, add more nutritional yeast for some extra cheesy flavor.
Tip: If the cashew mixture ends up being too firm, just add some more water.
Once the potato wedges are done, remove them from the oven and serve them directly on a big platter. Drizzle gravy on top, then add dollops of the cashew ricotta. Sprinkle with some finely chopped parsley before serving.