Where to begin when trying to explain the world of tofu to someone? I don't know exactly, so I thought about when I first ate tofu. It must have been 15 years ago. My mom wanted to try something new and prepared natural tofu (I think there were no other variations like smoked tofu back then). It didn't convince me at all, because it tasted like nothing. And that's probably what most people think when they prepare tofu for the first time. But actually, tofu is an absolute all-rounder and so versatile. With the right tips and recipe ideas, you will quickly become professionals in this field.
This article is perfect for all tofu beginners! Today we give you the most important basics that you should know about tofu. For all those who are already professionals in this field, it will still not be boring, we promise!
What is tofu, where does it come from, and how is it processed?
To answer these questions, we'll start with a brief history lesson. Tofu originally comes from China and has been produced there for several thousand years. In the 19th century, the soybean came to Europe, but it was not until the 1980s that companies were established that produced tofu, soy milk, and other soy products. It took a while for tofu to establish itself on the European market - it was often touted as a meat alternative back then - but today, it's hard to imagine a supermarket or organic market without it.
The preparation of tofu is similar to the one of cheese. First, soaked soybeans are ground and then filtered. This produces soy milk and soy meal. The soy meal is mainly used as animal feed, whereas soy milk is essential for further tofu production. Next, the soy milk is boiled. Then Nigari, a Japanese salt, is added, causing the soy milk to curdle. This is called soy whey. The whey and the nigari is then strained and pressed, which allows the remaining whey to drain off and the tofu to become firm.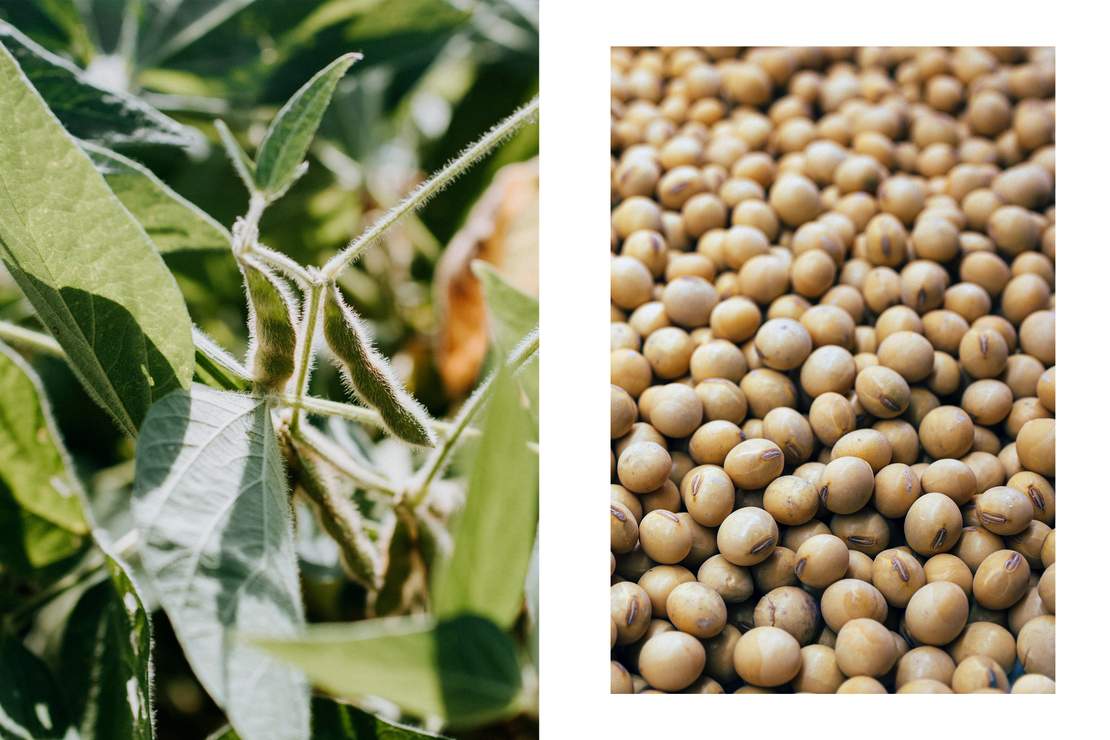 Is tofu healthy or not?
Soybeans have a high protein content, thus tofu is the perfect protein source for a vegetarian and vegan diet. Tofu contains calcium, iron, magnesium, folic acid, phosphorus, and many vitamins. Additionally, it's low in fats and free of cholesterol. All these points clearly indicate that tofu is healthy.
However, you may have heard that tofu affects the hormone balance. Where does this rumor come from? Tofu contains the secondary plant substances isoflavone. These are very similar to the female sex hormone estrogen, which is the reason many critics believe that men become feminized if they consume too many soy products. But, of course, this is total nonsense since isoflavones have a much smaller effect than estrogen - they are just similar to estrogen, not identical.
What types of tofu are there and which type do I need for which dish?
The list of tofu varieties is long and probably gets longer every year. There are always new companies bringing new flavors on the market, but in this article, we want to focus on classic products.
Let's start with the absolute basic tofu: Natural Tofu. It tastes neutral and therefore relies on a strong seasoning. The consistency is relatively firm, making it easy to cut into pieces or even crumble. Therefore it's well suited for dishes like sweet and sour tofu, tofu tikka masala or vegan feta made from tofu. But it's also perfect for vegan egg salad or vegan scrambled tofu.
The next classic is smoked tofu. It has a firmer consistency than natural tofu and has much more flavor. As the name suggests, it tastes smoked. Therefore it's the perfect vegan bacon substitute. Due to its firm consistency, smoked tofu can also be grated and then sautéed in a pan. It tastes great in vegan Alsatian Tarte Flambée, but also in vegan quiche Lorraine or as a filling for vegan "Handbrot" (vegan cheese-stuffed bread).
Silken tofu is perhaps not yet as well known by everyone as the other varieties. It's very slippery, and, just like natural tofu, it doesn't have a strong flavor of its own. Therefore, it's often used for creams and desserts like vegan Crème Brûlée or vegan chocolate mousse, but also as a "cheesecake" filling for cakes or muffins. But silken tofu is also perfect for savory dishes: In a quiche it's a super vegan egg substitute that holds the mixture together.
Probably even more unknown is tofu skin, also called yuba. During the process of making tofu, it's formed, skimmed off, and then dried. So before using it, it must soak. Afterward, it can be fried, and is surprisingly reminiscent of fried chicken skin.
Of course, besides the types of tofu mentioned, there is also tofu with spices, herbs, or nuts. These types usually have a similar consistency to natural tofu, but have much more flavor. Therefore you can use them wonderfully as a topping for a salad or as a wrap filling, for example.
Where can you buy tofu?
Nowadays, it's probably easier than ever to buy tofu. Since it's becoming more and more popular, every supermarket sells it in all kinds of varieties these days. Therefore, the only thing that matters, is the price. If you buy tofu in an organic supermarket, it's, of course, more expensive than in an Asian market. But, on the other hand, there are often more unusual varieties in organic supermarkets, such as deep-fried or baked tofu, tofu skin, or even fresh tofu.
How do I get flavor in natural tofu?
Pure natural tofu doesn't have much flavor of its own, which is why you can season it heavily. There are hundreds of possibilities to prepare it. One option is to soak it overnight. For this, combine oil, herbs, and spices of your choice in a bowl. Then add the tofu and mix it all until the tofu is completely covered with the marinade. Of course, if you like, you can get creative here and add onions or garlic, for example. Cover the bowl and place it in the refrigerator overnight. The next day you can fry, grill, or bake the tofu. Frying also gives the tofu a lot of flavor. In the next paragraph, you will read how it works. Alternatively, you can simmer tofu in a sauce, which allows it to absorb flavor... Of course, scrambled tofu is always an excellent addition to long breakfasts at the weekend. The tofu is crumbled, fried in a pan, and seasoned with Kala Namak salt. The salt has a strong egg flavor, making your scrambled tofu very reminiscent of scrambled eggs.
Crispy tofu? We'll tell you how!
You've often eaten crispy tofu in a restaurant, snack bar, or at a friend's house and always wondered how it got so incredibly crispy? Then we have the answer for you.
First things first: A well-coated pan is essential if you want to fry your tofu very crispy! In a lousy pan, the crispy layer might not stick to the tofu but to the pan. Additionally, not all oils are suitable for this. Since tofu needs a lot of heat to get very crispy, sunflower, coconut, or sesame oil are suitable for frying it. These can withstand high temperatures without any problems. Furthermore, dabbing your tofu is also very important as liquid counteracts the process of frying tofu crispy. If you keep all these things in mind, I promise you will get awesome crispy tofu.
There are several ways to get crispy tofu. The most common way is probably deep frying. The tofu is either dabbed and immediately deep fried in lots of oil or it's dabbed, tossed in bread crumbs, and then deep fried. Both versions work very well and guarantee super crispy tofu. For the next version, the tofu is also dabbed and then tossed in cornstarch. Again, it's then fried (in a little less oil, though). But of course, you can also prepare your tofu in the oven. For this, you need the least amount of oil. Just dab the tofu, then successively toss it in starch, plant-based milk, and breadcrumbs, and lastly, bake in the oven until crispy.
Our favorite tofu recipes from our blog.
I asked around the office what everyone's top three tofu dishes are, and many different recipes came flooding in.
My personal tofu favorite is actually smoked tofu, yet no recipe with this type of tofu made it into my top three. Funny. At the top of my winner's podium is Rice Noodle Salad with Baked Tofu & Lemongrass Dressing. There are no words needed, everyone should try this recipe! Right after that, our Vegetable Quiche gets the 2nd place from me. I love how creamy, but at the same time firm this "egg" substitute mixture becomes after baking. My 3rd place is Tofu Sweet and Sour. I only got to know this dish a few weeks ago, but after the first fork, I loved it. It's simply wonderful!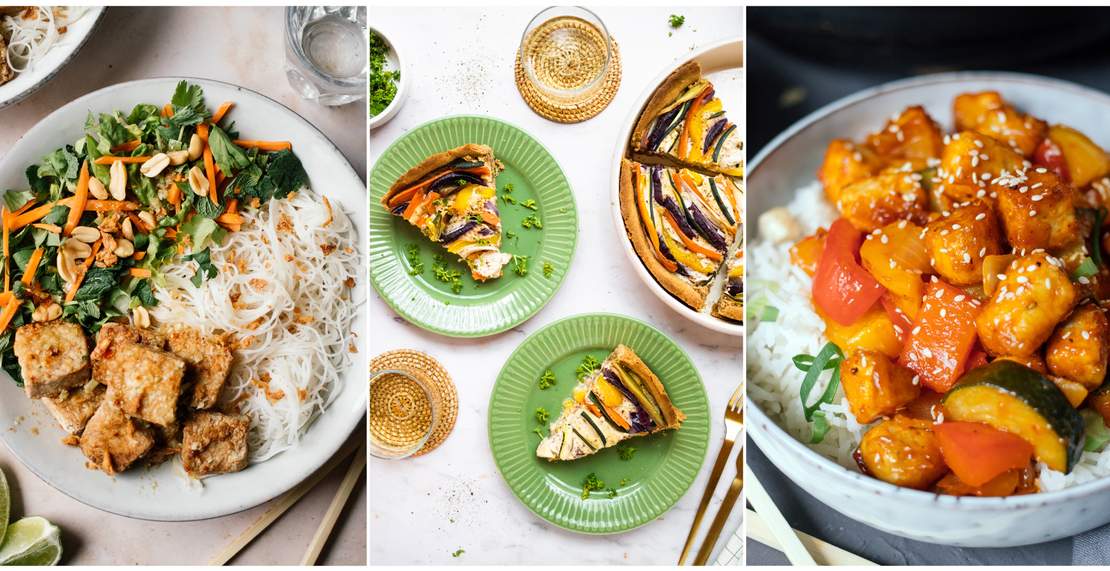 Ronja: It's really hard to decide which tofu recipes are my favorite. I think I am just going to say: Crème Brûlée, Quiche Lorraine and tofu as a diced topping on a Tarte Flambée or the pearl barley risotto, for example. I just love the crunch of cubed smoked tofu when it's crispy fried. The crème brûlée and Quiche Lorraine made it in my top three because I've always loved those two dishes and thanks to the tofu I can continue to eat a great vegan version.
Lina: My first place is definitely the cabbage pasta because it's so easy to cook and tastes simply incredible! The scrambled tofu I just love for breakfast! By the way, I can only recommend experimenting with the toppings - I think mushrooms and tomatoes are also super delicious with it, for example. Preparing a Tarte Flambée I always found quite difficult because I never really knew how to replace the bacon. But smoked tofu is such an easy solution for this and SO delicious. You really have to try it sometime!
Julia: I find it insanely hard to settle on my top three for all of our tofu recipes because I LOVE tofu - whether it's fried or "wobbly", whether it's peanut tofu, smoked tofu, or baked tofu. So I made my selection based on what I'd love to eat at the moment. I would never say no to a Bánh mì Sandwich - I just love the combination of crusty bread, juicy tofu, and crunchy pickled vegetables. Our herb crusted tofu with lemon mustard sauce has so far even convinced people who usually don't like eating tofu, and the vegan sheet pan onion tart doesn't even show the two kinds of tofu in it. The silken tofu makes the onion topping wonderfully creamy, though!
Isa: If I could wish for it, I would eat scrambled tofu every morning. You find natural tofu in any supermarket nowadays and it's a breeze to prepare. The chocolate mousse regularly ends up on the menu at family gatherings or birthdays. No one would guess that the wonderfully creamy consistency comes from silken tofu and the mousse consists of just three ingredients. It's genius! A Quiche Lorraine is usually made with lots of eggs. We replace them in this recipe with natural and smoked tofu and get a great soft texture that's firm but not hard.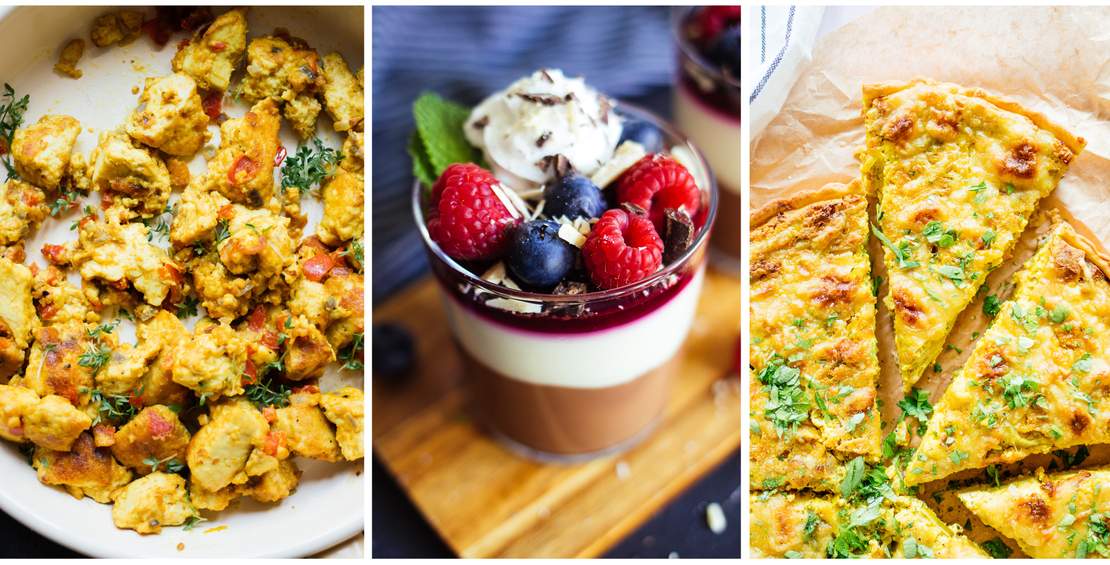 Literature
https://www.1000gaerten.de/die-sojapflanze/biografie-der-bohne
https://www.alnatura.de/de-de/produkte/faq-produkte-allgemein/tofu-was-ist-das-wie-wird-er-hergestellt/
https://de.wikipedia.org/wiki/Tofu
https://vegawatt.de/vegan-leben/totaler-quatsch-oder-nichts-als-die-wahrheit-die-10-grossen-tofu-mythen
https://www.verbraucherzentrale-bayern.de/wissen/haetten-sies-gewusst/woraus-wird-tofu-gemacht-9459
https://vegawatt.de/vegan-leben/totaler-quatsch-oder-nichts-als-die-wahrheit-die-10-grossen-tofu-mythen
https://www.gannikus.de/wp-content/uploads/2018/07/soja-warum-die-huelsenfrucht-umstritten-ist1.jpg
Bild von Sojabohnenpflanze: Photo by Kelly Sikkema on Unsplash
Bild von Sojabohnen: Photo by Daniela Paola Alchapar on Unsplash