8 Menu Ideas For Your Vegan Christmas Dinner
On Zucker&Jagdwurst you will find so many recipes that it can sometimes be difficult to find exactly the right one for the moment. For that, we've categorized our recipes, but if you want to be more specific, you'll hopefully find the right dish in our recipe collections – for example if you're looking for soy-free desserts, hangover food, and what to eat when you have a cold. You can find all recipe collections here.
There are two types of people during Christmas holidays – the ones that have know exactly what to eat on Christmas holidays for months and the ones that decide on Christmas morning and then quickly hurry to the supermarket. Which type do you belong to? While Julia flirts with the idea of cooking vegan roulades every Christmas, Isa has established a vegan goulash tradition over the years. But lo and behold – this year, vegan cabbage roulades are also on her radar – the final decision is still pending.
Evel if you already decided on a main course there's still the question of which starter and dessert to go with it. We want to help you with all this decision making so we've put together eight Christmas menu ideas that will help you find the perfect match. But of course, also feel free to mix everything up and choose your own favorite combination. 
1. The Classic German Christmas Menu
If you've always been on "team potato salad" on Christmas Eve, of course you can still enjoy it for your vegan Christmas dinner. Regardless of the big "mayo or no mayo" debate, we always recommend our (in our opinion) best potato salad in the world. For dessert, get some no-bake chocolate biscuit mini cakes called 'Kalter Hund' which can be prepare with speculoos instead of butter cookies to add a Christmasy twist.
Starter: Beetroot and Citric Salad
Main: The World's Best Potato Salad
Dessert: No-bake Chocolate Biscuit Mini Cakes
2. The Fancy Yet Simple Christmas Menu
At this point, we can reveal that our vegan goulash recipe is the most popular Christmas dinner every year. As a technical proof we see the analytic's page impressions and as visual proof we get tons of photos from you on Instagram during Christmas holidays – which is always so great to see! So we can say that you can't go wrong with this beloved and well-tested Christmas dinner – accompanied by a light salad and some vegan tiramisu that are super easy to prepare.
Starter: Citrus Salad with Blood Orange Vinaigrette
Main: Vegan Goulash with Pan-fried Dumplings & Red Cabbage
Dessert: Easy Vegan Tiramisu
3. The Traditional Christmas Menu
We're sure that Julia is not the only one who grew up with the classic Christmas combination of potato dumplings, red cabbage, and some kind of meat. With this recipe though, there's no need for an actual meat substitute as our mushroom goulash is hearty enough. Homemade potato dumplings require a bit more time and effort so we won't tell anyone if you take a shortcut and and buy premade dough for potato dumplings. And what's more matching than a traditional dessert such as baked apples with vanilla sauce, right?
Starter: Cauliflower Apple Soup with Cinnamon Nuts
Main: Vegan Potato Dumplings with Mushroom Ragout and Red Cabbage
Dessert: Easy Vegan Baked Apples with Vanilla Sauce
4. A Christmas Menu from Isa's Family
Part of Isa's family comes from Swabia – so traditionally they eat 'Sauerbraten and Spätzle' on Christmas Eve. Isa already veganized both of these dishes with her own family recipes. As a matching starter, we recommend a Swabian 'Flädlesuppe' which can be prepared in less than 30 minutes. And for dessert? Well, if you really want to eat like Isa on Christmas Eve, you actually skip a fancy dessert and simply treat yourself to some vegan ice cream. 
Starter: Vegan, German Flaedle Soup (Pancake Soup)
Main: Vegan "Sauerbraten" (Marinated Seitan Roast) with Spaetzle & Red Cabbage
Dessert: Nothing. Grab yourself some vegan ice cream.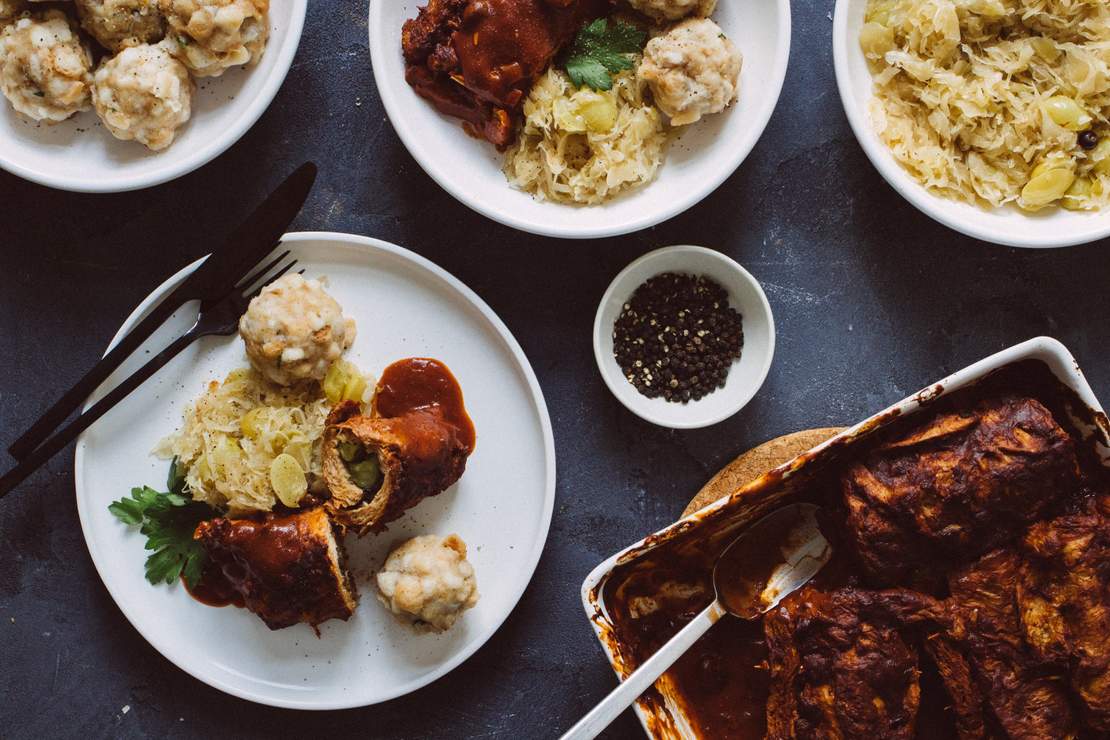 5. A Christmas Menu from Julia's Family
Julia's family traditionally eats special potato dumplings for Christmas that are called 'Grüne Klöße' (literally 'green potato dumplings') – unfortunately we don't have this recipe on the blog so far but these mini bread dumplings taste just as great! The roulades do require a bit of work, but if you prepare a large portion of them right away, you can still enjoy them for a few days to come. In the last years, Julia's mother has discovered the joy of vegan aquafaba mousse which is now often served. It can be prepared in the morning which saves stress in the evening as you can serve it right from the fridge.
Starter: Simple Mushroom Soup with Three Types of Mushrooms
Main: Stuffed Soy Steaks with Dumplings & Sauerkraut
Dessert: Vegan Gingerbread Mousse with Caramelized Oranges